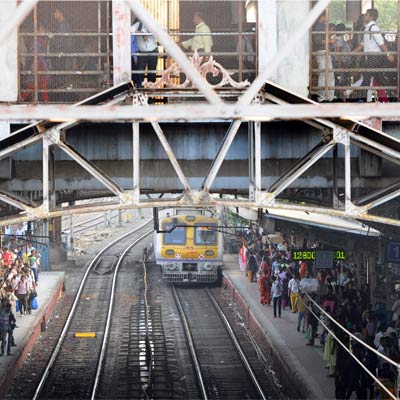 Central Railway had to cancel 30 services after a tree fell on the power-carrying overhead wires close to platform number 5/6 at Dadar station. The inicdent happened at 5:57pm and resulted in the diversion of Down (away from CST) and Up (towards CST) fast trains on the slow lines between Parel and Mtaunga. This is because power supply to the lines was cut to allow fire personnel and railway staff to remove the tree and re-energise the overhead equipment.
According to a CR statement, the Down line was restored at 8:10pm and the Up line at 8:29pm. However the two and half hour period where both fast and slow trains were routed through the two slow lines meant that almost trains were running more than half an hour late. Thousands of commuters got stranded as the incident happened right at the start of evening rush hour, said officials.
Earlier, officials said that pre-monsoon survey of trees would be undertaken- and branches trimmed wherever required- to ensure that such incidents are not repeated.
Thousands of commuters have been left stranded after Central Railway had to shut down the fast lines after a branch of a tree fell on the overhead wires at Dadar.
According to officials, the branch fell on the wires a little ahead of platform number 6 on the southern edge of the station. Power had to be swicthed off on the other line to allow personnel to remove the branches.
Officials said it would take almost an hour to remove the branch and during this time several fast trains would be cancelled and the cascading effect would be felt on slow lines as well.
"Avoid CST fast trains. Problem in power line at Dadar stn on Mumbai railway. CST-bound fast trains lined up."

— Akshay Iyer (@daredevilakshay) June 10, 2014