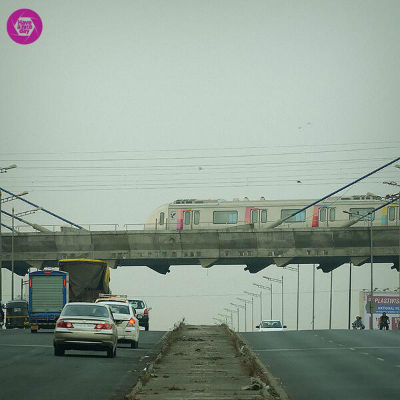 The much awaited Mumbai metro rail finally opened for public use this Sunday.
Thousands of Mumbaikars flocked to their nearest metro stations for their ride of the newest mode of transport in the city.
However, the Twitterverse was already gearing up for this D-Day months ago.
The official Mumbai Metro Twitter account has been giving out all the information, people need to know about this world-class mode of transport which has dramatically reduced the travel time between Versova and Ghatkopar, running through various locations like Saki Naka and Marol which are often prone to traffic jams. It has got about 1268 followers and counting.
The account monitors feeds from 9am to 7pm on working days and gives us the latest buzz around #MumbaiMetro.
The most impressive was a retweet by the account that gave a link to the Mumbai Metro website that lists offences and penalties that could lead to jail.
Before you board #MumbaiMetro tomorrow.. get familiar with Mumbai @MumMetro OFFENCES N PENALTIES. http://t.co/p4VL4AGjWb

— Ankit Tak (@ank_takes) June 7, 2014
The above mentioned website also has step by step guidance on how to use the metro. There are staff members who are ready for your assistance on the spot .
The twitter handle even tweeted a nifty infographic that shows the route of the metro.
List of tweets 'Favourited' by the account which shows the excitement of the passengers on the first day of their metro ride.
@MumMetro My first #MumbaiMetro ride today evening #MetroSelfie #LifeInAMetro #MyDailyDostMumbaiMetro pic.twitter.com/he30xD8LNn

— Kartik R Rao (@iamkartikrao) June 9, 2014
@rajtoday @MumMetro Now its my daily routine ;)

— Harsh Mehta (@harshf1) June 9, 2014
Enjoyed the 20 mins #MumbaiMetro Ride !!! @MumMetro

— Rãvï Hõdïwâllâ  (@djravi123) June 9, 2014
Certainly Mumbai metro has given a reason for Happiness to all the Mumbaikars... Proud Moment! #MumbaiMetro @MumMetro

— Bĺüë Bĺööð (@Prasadnaks) June 9, 2014
The train has in all 12 stations: Versova, DN Nagar, Azad Nagar, Andheri, WEH (Western Express Highway), Chakala, Airport Road, Marol Naka, Saki Naka, Asalpha, Jagruti Nagar and Ghatkopar.
Here's a small info-graphic to show you the #route of the Metro! Plan your journey in advance! #MumbaiMetro pic.twitter.com/KFmVrXXuhw

— Mumbai Metro (@MumMetro) June 9, 2014
The minimum fare being Rs 10 and the maximum is Rs 40 for travelling from one end to the other.
But for the first 30 days, the fare will be Rs 10 between any two stations. Hence, One can travel from Versova to Ghatkopar in less than half an hour by paying a mere charge of Rs 10.
Mumbaikars now can have all the information on Mumbai Metro on their fingertips via the Twitter handle.