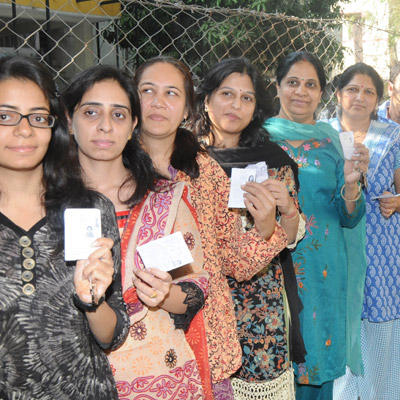 As the sixth phase of Lok Sabha elections reach closure, poll figures have seen a major jump in Mumbai. Though, Mumbaikars did not turn up in high numbers early in the day, the numbers reversed drastically by late evening.
Early in the morning, Mumbai recorded dismal figures of 16% that reached 25% by noon as per Election Commission's counting figures.
As the criticism grew against Mumbaikars for bad turnout, footfalls increased at polling stations across the city.
As per counting figures by evening five, below were the polling figures:
Mumbai North constituency: Congress Sanjay Nirupam and BJP's Gopal Shetty are contesting from this constituency. The polling count was 52% as per latest figures.
Mumbai North West constituency: Congress Gurudas Kamat is fighting against Gajanana Kirtikar,Rakhi sawant and AAP's Mayank Gandhi.
The polling count was 50% by 5 pm.
Mumbai North East constituency: The battle in this constituency is between NCP's Sanjay Dina Patil, BJP's Kirit Somaiyya and AAP's Medha Patkar.The total count here was 53%.
Mumbai North Central constituency: This battle is between Priya Dutt, BJP's Poonam Mahajan and SP's Farhan Azmi. The total count till 5 pm was 55%.
Mumbai South Central constituency: The battle is between Congress' Eknath Gaikwad, Shiv Sena's Rahul Shewale and MNS' Aditya Shirodkar. The total count was 55%.
Mumbai South constituency: The battle is between Congress' Milind Deora and Shiv Sena's Arvind sawant. The total count is 54% by 5 pm.
The total count recorded at Thane and Kalyan was 52% and 42% respectively.
Raigad recorded a total of 64% voting. In total, Mumbai had a total voter turnout of 53.26% while Maharashtra has 55.92%.
Also read: LIVE Lok Sabha Elections 2014: Polling officer on duty passes away in Mumbai; City records low turnout while West Bengal shines