Foolproof security arrangement and greater awareness among revellers prevent untoward incidents.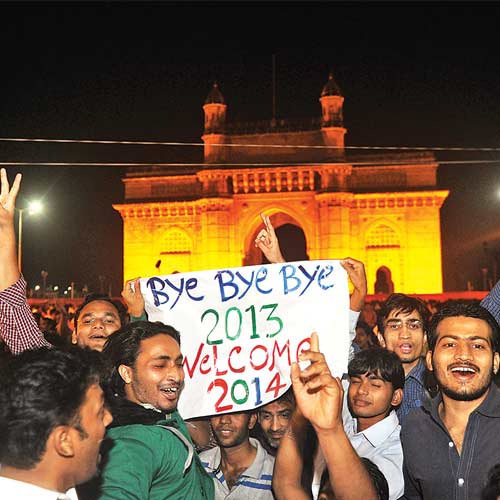 Pooja Naik, a 26-year-old freelance photographer, had a safe and peaceful New Year eve despite her apprehensions about celebrating the night in a crowded pub.
"I went to an Andheri pub with six of my friends. I was not too kicked about going clubbing on New Year's eve as I feared untoward incidents in a crowded pub. But I was very happy with the patrolling on roads and the policing inside and outside the club. I didn't feel unsafe even after midnight," said Pooja.
Like Pooja, New Year's eve was safe and hassle-free for many revellers.
The New Year's eve remained almost incident free despite the extension of deadline for keeping hotels and pubs open till 5am for celebrations in the eleventh hour.
More than 50,000 police personnel were deployed all over the city on New Year's eve.
Apart from patrolling officers, bomb squads, eve-teasing squads, anti-terrorism squads and women and male constables in plain clothes were deployed across the city.
Sadanand Date, joint commissioner of police (law and order), said, "All the crowded places, including Marine Drive, Gateway of India, Carter Road and Worli Sea Face, were heavily guarded.
Our officers were vigilant and alert and the revellers also cooperated with the police officials, making it easier for us. There were hardly any major incidents of crimes like accident, harassment, assault, rape or molestation."
Apart from two raids by the social service branch on two bars and 568 cases of drunken driving, there were no cases registered in connection with the New Year's eve.
"We were extra vigilant this year. We also ran several awareness campaigns this year to alert citizens on safety and security. We also had communicated with hotels, pubs and bungalow care takers to keep a watch on people and drunken banters and warn people if anything untoward or anti-social happens," said a senior police officer.
Another reason attributed is the decrease in the number of footfalls in restaurants and pubs and the extension of deadline of pubs and restaurants in the last minute.
As Kamlesh Barot, committee member of Hotel Restaurant Association Western India, said, "If the deadline had been kept at 1.30am, there would have been a lot of chaos as people would step out of restaurants and pubs at the same time around the deadline. However, after the deadline got extended to 5am, people would scatter and get out any time between 1am and 5am.
This reduced the crowd and chaos and minimised the risk of violence or any untoward incident."
He also added that as people came to know of the deadline extension in the last minute, many had made plans to travel outside the city and even can plans and have house parties, etc.
"We saw marginal reduction in the number of footfalls this year, owing to the confusion in deadline of pubs and eateries. We had also strengthened internal safety and security by deploying many guards and bouncers inside the clubs. All this helped us keep a tab on untoward incidents," added Barot.