Civic body serves notice on varsity, asking it to close pool within seven days.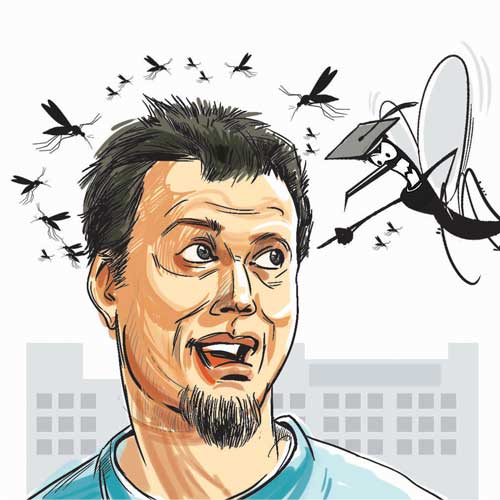 An under-construction swimming pool at the Kalina campus of the University of Mumbai is a breeding ground for mosquitoes, says the civic body.
The Brihanmumbai Municipal Corporation (BMC) has issued a notice to the university after it found that the water in the pool was stagnant.
"Our team regularly carries out inspection. It was observed that the water at the under-construction swimming pool may lead to breeding of mosquitoes," said a senior civic official, adding that a notice has been issued to the maintenance department of the university.
"We have issued the notice under Section 381 of the Mumbai Municipal Corporation Act, asking them to make the swimming pool dry or close it," said Rajan Naringrekar, insecticide officer of the BMC.
He added that the university has been given seven days time to comply with the notice.
"We will wait for seven days and will check whether they have taken any preventive measure. If the university fails to comply with the notice, we will initiate prosecution against them," said Naringrekar.
Pro vice-chancellor Naresh Chandra confirmed the development. "We have received the notice a week ago and we would comply with it," Chandra said.
When asked about the measures the university would take, Chandra said, "The pool is almost ready. The water is not stagnant and it is being used for gardening."
Interestingly, the Department of Physical Education, under which the sports complex and pool comes, is headless for over a year.
Head of the department Bapu Chaugule and another senior professor were suspended last year over alleged sexual harassment charges.
The work on the sport complex was started in 2007 and it was stalled many times due to alleged corruption.
"The university has allocated Rs9 crore for the work. Till now, Rs6crore has been spent and the students haven't got any facilities. We have complained to the vice-chancellor many times but nothing has happened so far," said a senator and MNVS member Sudhakar Tambli.
Interestingly, the university website claims that the sports complex has all amenities.
Pool-side story
During a regular inspection, the BMC employees found that water in the under-construction swimming pool at University of Mumbai's Kalina campus was stagnant. The civic body has sent a notice to the maintenance department of the university, asking it to take action within seven days.