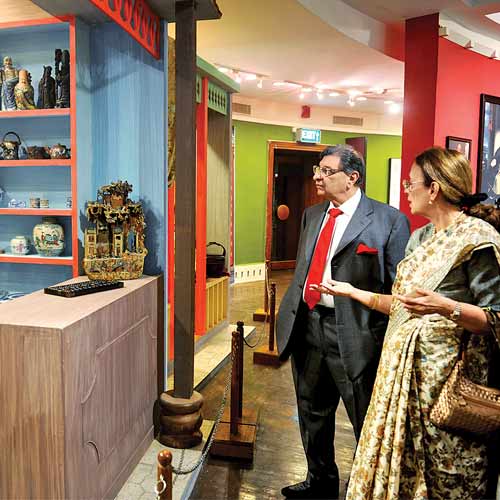 On the eve of the 10th World Zoroastrian Congress (WCZ), the Parsi-Irani Zoroastrian community hopes to reach some common ground on some crucial issues plaguing the community.
"These will not just have to be logical but practical too. The dwindling population issue has always been difficult to resolve," said Dr Cyrus Poonawalla, chairman of WCZ, at an interaction held on Thursday at the National Gallery of Modern Art (NGMA).
To be inaugurated by President Pranab Mukherjee, the theme of WCZ is 'Zoroastrianism in the 21st Century: Nurturing Growth and Affirming Identity'. It will be dealing with a host of issues, like decreasing population, religious identity, the debate between traditional values and liberal approach towards the practice of the Zoroastrian faith, youth affairs, and history. The four-day Congress, will begin from Friday and will be held at the NSCI grounds in Worli.
Although it has returned to Mumbai after 23 years, differences between the trustees of the Bombay Parsi Punchayet (BPP), which is hosting it, were threatening to postpone the event. "Many Parsis across the world had decided to come, so we decided to have it," said Poonawalla.
The congress will have a panel discussion by prominent speakers on whether the new generation is able to match up to their forefathers. A performance by Mallika Sarabai and Shiamak Davar, and a horse race – a sport often associated with Parsis – will be held at the Mahalaxmi Race Course.
Two exhibitions — 'Across Oceans and Flowing Silks: from Canton to Bombay 18th-20th Centuries' and 'No Parsi Is An Island,' will be held at NGMA. "The theme of the exhibition is trade and how the community has returned to not just to Parsis but society too," said Pheroza J Godrej, curator of the exhibitions.
Types of Zoroastrians
There are two types of Zoroastrians. The batch that set to have arrived between 796 to 936 AD is called Parsi Zoroastrians. The other batch that came around 150 years ago is called the Irani-Zoroastrians. The latter arrived as small batches of families. The reasons for coming to India was to save their religion, Zoroastrianism, from invading Arabs who proselytized Islam. Except for minor differences like the calendar, there is not much of a differences between the two.
First stop: Diu
There is no confirmed date on when Zoroastrians arrived in India. The Zoroastrians, who originally belonged to Iran, came to India by sea. The first batch that arrived is said to be around 2,000-3,000. In India, they first landed in Diu where they lived for around 18 years. It is said that they felt threatened by the Islamic invasion around Diu and hence moved down south to Sanjan.
Sanjan was then ruled by a Hindu King Vijayaditya, popularly known as Jadhav Rana.