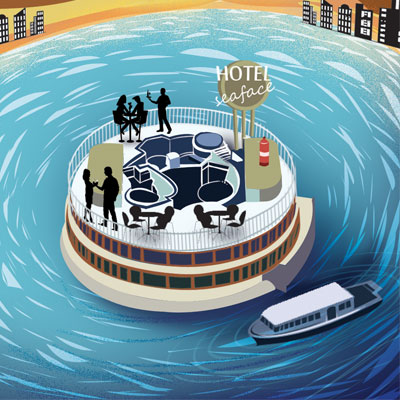 Do good food and ambience attract you to a restaurant? If yes, how about a wining and dining joint with a stunning view of the Arabian sea, with the Bandra Worli Sea Link in the foreground? Get ready to enjoy this heightened experience as Mumbai is set to get its first floating restaurant.
The Maharashtra Tourism Development Corporation in collaboration with a private party is starting the floating restaurant off Bandra. This will be the first of many such projects to be replicated across the state, said tourism board officials.
The project will take off in the next couple of months and the consent from Maharashtra Maritime Board has already been received by the tourism body, sources said.
"It will be a great experience for the food lovers and others who want to have some good time with near and dear ones amidst the breathtaking view of the sea," said Paraag Jain Nainuttia, chief executive officer of the maritime board.
The development is significant considering the fact that Mumbai does not have a wine and dine vessel even though it sees the highest number of foreign visitors. Many cities across the country and the world have developed tourism around floating restaurants. They offer special dining, cruises and parties organised on rivers, lakes and the sea.
Officials having direct knowledge about the project said that nearly 70 people can be accommodated in the vessel on which the passengers can dine or party till the permissible limits set by the civic and police authorities. The restaurant will start functioning mainly during the evening hours, they said.
According the sources, the vessel will have two decks with a big hall inside. "MTDC is acting just as a facilitator. The restaurant, which will be operated by private players, will start once all the required permissions are in place" said Satish Soni, joint managing director of the tourism corporation.
While floating cafes and eateries in Bangkok, New York and European cities are a part of the city culture, in India, Goa has extensively used its waterfronts to attract tourists. In Hyderabad too, such joints can be seen on the famous Hussain Sagar lake.
In Mumbai, parties and dining on ships, which mainly happened during the New Year celebrations, has been barred since the terror attack of 26/11 when 10 Pakistani terrorists entered the city through the sea and created bloodbath, leading to the death of 166 people.