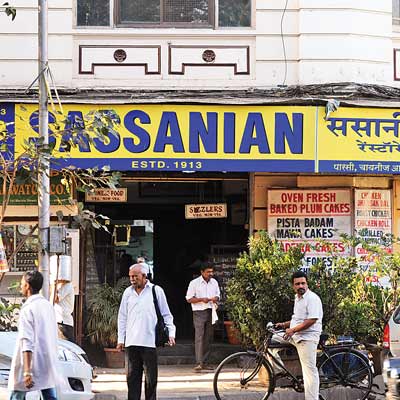 At a time when Irani eateries in the city are shutting shop, the iconic Sassanian Restaurant and Bakery in South Mumbai is on the verge of completing 101 years in business. Situated in Dhobi Talao near the Gol Masjid, the quaint restaurant, which serves mouth-watering delicacies like chicken puff and dhansak, will turn 101 on March 21 – when the Zoroastrian Community will celebrate Navroz (Iranian New Year).
Started in 1913 by Rustom K Yazdabadi as KR Sassanian Restaurant and Bakery, the eatery only served bun-maska (bread-butter), chai (tea), mawa cakes and kheema initially. It was only in 2000 that they expanded it into a restaurant and began serving Parsi cuisine.
Despite other eating joints coming up in the vicinity, Sassanian continues to attract huge crowds even today. "We don't advertise our place; customers come to us because of word-of-mouth publicity. Loyal customers keep frequenting the place because of the quality of food we serve. My father told me to always serve good food and take the blessings of people; that has been the unwritten rule in our long journey," said Meheraban Kola, one of the partners of Sassanian along with Adi K Yazdabadi and Irandokhd Behjat.
Meheraban, his sister Dilnaz and brother-in-law Shahrukh manage the eatery at present. Meherban's father Khodadad became Yazdabadi's partner in 1947. They became family after Meheraban married Yazdabadi's great great granddaughter in 1978.
Sassanian is now famous for its dhansak, salli chicken and roasted chicken. Its mawa and plum cakes along with chicken puffs are the most sold articles from the bakery (Boulangerie). Several famous celebrities, including film stars, politicians and academicians, swear by the food and charm of Sassanian. "Actresses Mumtaz and Helen, late Shiv Sena leader Pramod Navalkar and former director general of police Arvind Inamdar came here often," Meheraban told dna.
Churchgate resident Nazneen Engineer unfailingly visits Sassanian whenever she can. "The taste of salli chicken hasn't changed over the years; it tasted the same when I visited the place recently. I regularly went to Sassanian when I was in college a decade ago. I like the chilled-out ambiance there and love the pictures from Iran which adorn Sassanian's walls. I hope the eatery remains functional forever so that the future generations can relish its tasty delicacies and enjoy its classic atmosphere."
Sassanian hopes to serve its customers for many more years. Meheraban says his son has done a catering course and that he may take over. "But that would be completely his decision."