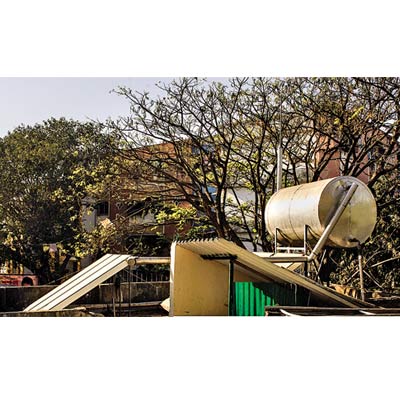 Even though Mumbai is home to a large number of corporates who can afford to incorporate solar energy in their industries, they surprisingly haven't found the time or money to do so. On the other hand, one of the few solar installations in the city belongs to a humble public toilet run by Triratna Prerna Mandal (TPM) in Santa Cruz (West).
What is even more amazing is the primal nature of the motivation behind the project which executive president of TPM Dayanand Jadhav attributes to "necessity". "When water and electricity became expensive for us, our lines were cut for a short period. We continually faced the pressure of mounting bills. That's when we decided to move to sustainable sources of water and energy and we haven't turned back since," he said.
Today, TPM feeds all its water needs from two ring wells, dug by the organisation itself in the vicinity, and power from solar panels. More than 1,000 people from the nearby Kothu Wadi slum depend on TPM's toilet for their sanitation, with the annual charge for using it being as minimal as Rs150 for a family. The toilet earlier used to foot an electricity bill averaging Rs6,000 rupees every month without water heaters.
"We needed light 24 hours for the safety of women. We heard about the government's green initiatives and sent it a proposal. In November 2011, a solar water-heating system and a panel for electricity, costing Rs3.85 lakh, was installed in the toilet along with LED energy-saving bulbs. Government bore 90% of the cost and Observer Research Foundation the rest," said Jadhav.
The toilet now has solar water heaters, with a capacity of heating 1,000 litres of water a day up to 60 degrees Celsius, and a half KW solar photovoltaic panel with a nine-hour battery backup for the night. They claim their electricity expenditure has gone down by 45% since.
"We now plan to upgrade our existing system to include the entire office complex, along with new solar panels on nearby buildings too," said Jadhav, one of the founding members of TPM, which was started in 2002 by a group of young boys who recognised the importance of sanitation facilities in the slum, especially for women.
Their journey towards environment sustainability started with the ring well and has now extended to waste segregation, solar energy and vermi-composting within the community, providing a brilliant model of solar use in underdeveloped urban areas.