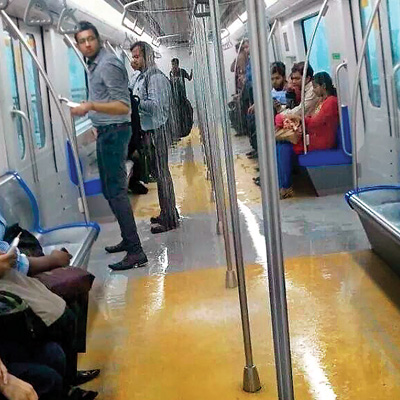 South West monsoon rains lashed Mumbai on Wednesday as if to apologise for the one month delay in arrival, pouring out 180.8mm of rain according to figures available till 5.30pm. Strangely however Colaba recorded a rainfall of only 10mm through the day. The highest rainfall recorded for a single day in Mumbai is a humongous 944.2 mm which occured on July 27, 2005.
The one-month delay in monsoon was worrying the state and central government. A no-show through July would have meant that prices of onions and other essential commodities would have gone up and an agricultural crisis would have stared at the new government. That fear seems to have been partially at least removed with today's rains in central India and other regions. Thirteen parametres in global weather (used by IMD for long term prediction) have to work in unison before the south west monsoon rains can start as if replaying an annual act from it aeonic memory.
With the heavy rains on Wednesday, the city got a relief from the humid and muggy weather and the temperature dropped over 10 degress to 25 degree centigrade. "Until this date, it should ideally have rained an additional of 308.3mm and 529.9mm in Santa Cruz and Colaba. We are heavily underfed this year, as compared to past years. Scattered rain and thundershowers will occur as westerly winds gusting uptil 25 knots facilitate rain," a Met official said.
The rains are expected to continue at this strength through July. KS Hosalika, deputy director general of Met, said: "Moderate rains have been forecast for the season. Earlier drizzle has given away to showers. If favourable weather systems sustain, good rainfall will continue."
Weather officials said that this year has probably been the worst in the past 50 years. The departure from normal rainfall this monsoon season has been recorded by the Indian IMD at -308.3mm in Santa Cruz and -529.9 mm in Colaba.
According to the routine played out monotonously every year, city life again went over the edge with huge traffic snarls, delay in train runnings on the Harbour line and many low-lying areas waterlogged despite BMC's hectic preparations for the rain.
The spanking new Metro train was also victim as many rakes were flooded with water due to leakage. Mumbai Metro spokesperson said: "Out of 16 trains in service, one of the train's AC unit reportedly malfunctioned during heavy shower. The train has been replaced with a train that was kept stand-by to ensure no impact on services. The train shall join in for regular run from Thursday."
According to the BMC, waterlogging was reported from across the city from Badhwar Park in Colaba,to Dahisar and Santa Cruz and most parts of Central Mumbai.
"Be it PMGP or Shell colony, there were complaints of knee-high waterlogging in areas of Chembur. Add to this, there were complaints of tree falls too. That means, all the claims made by the BMC pertaining to cleaning of major and minor drains and tree trimming were washed away in one day's rain. All the public money spent on the works has gone down the drain," Raj Kumar Sharma, president of a Chembur-based citizens' group, said.
Similar complaints were heard across the city. Nikhil Desai, who stays in King's Circle, said waterlogging was witnessed on busy Dr BR Ambedkar road. "This was not due to heavy rainfall, but sewerage water flowing out on road. The BMC says water pumps could not be used here as it may burn out. They have been giving this reason for the past three years. Why not buy a bigger pump and give public relief?" asked an irritated Desai.
A commuter K Sitalakshmi said: "It took me over three hours to commute from Kharghar to Parel. There was gutter water all around Kurla station where the train was stuck." Another commuter K Srivatsava said: "I got into a train at Thane and for an hour and a half I was stranded near Vikhroli. Finally, I had to jump on to the tracks and wade my way through dirty water to Vikhroli station. It was a harrowing experience."
When asked about BMC's poor show, Laxman Vhatkar, the corporation's director of engineering services and projects, said the problem can be solved in the long run and by improving the drainage system. "In town area, the design of the drainage is suitable for 25mm/hour rainfall. Excessive rainfall means, flooding. Same is the case in suburbs. We have not received complaints from areas where the drainage capacity is increased up to 50mm per hour. The waterlogging cases reported on Wednesday were mainly due to local issues and not major drains," Vhatkar said.