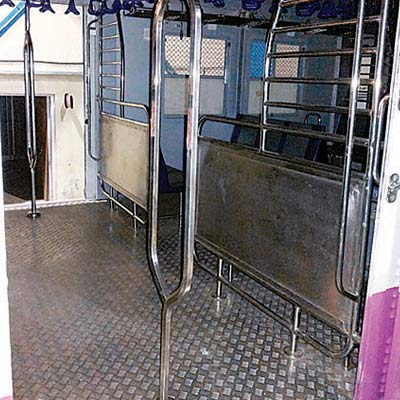 The new Bombardier coaches that are expected to be introduced on the suburban railway in April will have single grab poles and not the hexagonal-shaped double pole that was designed originally.
Railway officials have asked the Integral Coach Factory (ICF) in Chennai that is making the rakes to review the design of the grab pole after a study of the prototypes that arrived in October.
The hexagonal design provided two handle bars to allow more people at the door to grip the pole while alighting or climbing into the compartment. However, officials believe that it also reduces the space in the doorway and it might turn out to be an obstacle.
There are a few officials who insist that the double-handle design would be better than the existing single round pole.
"In a coastal city like Mumbai which has a high humidity, the round grab pole tends to get slippery due to sweaty palms. The grooves on the hexagonal shaped pole would help to mitigate the problem," said a senior railway official.
Officials critical of the double-bar design said that many commuters grab the pole to board running trains and this may not be conducive.
It seems that the debate on the design of the grab pole erupted following the slew of media reports that highlighted accidents due to the gap between the platform and the train floor. Officials said it was likely that some commuters who fell from the train had lost the grip on the pole.
Now, ICF will change the grab poles in the 70 rakes that it is making.