Relatives abuse hospital staff, damage doors in new building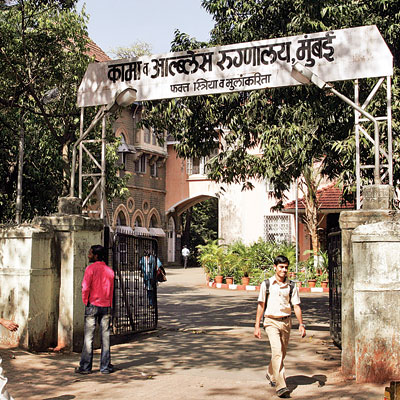 Infant twins, who were born premature at the government-run Cama and Albless hospital three weeks ago, died on Sunday night within a span of a few hours.
The hospital staff did not give the cause of death or explain the circumstances in which the babies died. The twins were born to Priya Khetrapal, 28, on August 10 and were under observation in the neonatal intensive care unit (NICU).
Angry family members and relatives abused medical staff on duty and even got violent, damaging a couple of doors on the first and second floor of the hospital's new building, the Azad Maidan police said. Five persons have been arrested for the violence.
At the time of birth, one of the babies weighed 990 grams and the other weighed 1.10 kg. Their condition was apparently unstable.
According to a complaint registered with the police, one of the infants died at about 6pm. The body was handed over to the relatives at about 8pm. "After performing the last rites, they returned to the hospital at about 9.30pm and learned that the other child had died too," said a police official.
The police official quoted a security guard at the hospital as saying that the father of the twins and some relatives got angry and when he tried to pacify them they abused him. "The guard, Ramesh Kumbhar, said they created a ruckus outside the NICU on the second floor," he said.
The police were called in and five persons identified and charged. Their names were given as Suraj Babu Roy, Subhash Saha, Abdul Ghulam Murtuza, Mohammad Rafiq Abdul Kalam Shaikh and Sameer Ajay Sarkar.
The police have booked them for rioting, assault, unlawful assembly, causing damage and breach of peace.
Dr Rajashri Katke, medical superintendent of the hospital, said, "The babies were premature and they died in the hospital. The relatives got violent and started abusing the staff. Fortunately no staff members were hurt. We had to approach the police to bring the situation under control."
Premature babies can experience various short-term or long-term complications ranging from breathing and heart problems to vision and hearing issues, even behavioural and psychological problems or chronic health issues. Generally, the earlier a baby is born, the higher the risk of complications. But, not all babies experience such problems.
On Sunday, the family members of a premature baby which died had vandalised Bahbha Hospital in Bandra. According to the hospital authority, the baby boy was discharged on August 24, but re-admitted with severe gastro problems and died on that day around 4pm. The hospital authorities called the police and the situation was brought under control.