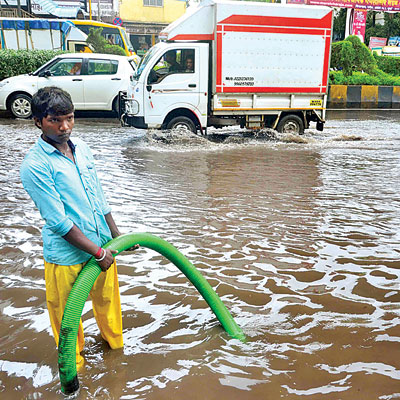 What will further allay water woes, the Brihanmumbai Municipal Corporation (BMC)-owned Vihar lake overflowed late Sunday night.
Vihar is the fifth reservoir to spill with 2563.40 mm rainfall received, until now, this monsoon. Earlier, Tulsi and Modak Sagar dams overflowed in July, while Tansa and Middle Vaitarna reached their optimum storage capacity last month.
Mumbai's water requirement is 4200 million litres per day (MLD) as against the deficit supply of 3750 MLD. The BMC withdraws 110 MLD water from Vihar lake located near Vihar village on the Mithi river. The annual storage capacity of the dam is 27,698 million litres.
"This is another good news for citizens. Now, only the state government-owned Upper Vaitarna and Bhatsa reservoirs are yet to overflow. We still have a month's time in hand," a senior official from BMC's hydraulic engineering department said.
The officer added that even if the present levels at Bhatsa and Upper Vaitarna remain constant, the city is in a good condition and the useful content available can be consumed until July 30.
"We are short of the annual water storage capacity by 50,000 MLD. The present stock is adequate to quench city's thirst given the actual requirement is 12.50 lakh million litres. But, given the overall situation across the state, we appeal residents to be judicious while using water," the official added.
Water, water everywhere
As on September 1, 2014:
Total useful water available: 13,97,448 million litres
Total useful water available last year: 12,59,577 million litres
Total water dams can store annually: Around 14,47,000 million litres