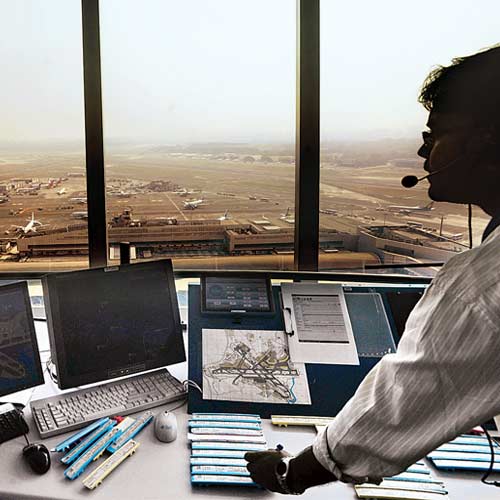 Long after citizens had welcomed the New Year with wild cheers and fireworks across the city, air traffic officials at Mumbai airport began celebrating with high-fives at 11.32am. They had just guided the Jammu-bound Indigo 6E 559 to take off from the new air traffic control tower, which became operational on Wednesday.
Standing tall at 84 metres, airport authorities claim the new ATC tower to be the tallest in India.
The state-of-art structure is expected to improve operational efficiency in terms of traffic management. With the new rapid taxiway expected to be complete by May, officials say the new tower will help them increase the peak-hour capacity to 50 movements from the current figure of 42 landing/take-offs.
The rise in number of flight movements will lead to an increase in the seat capacity from Mumbai airport, which, in turn, may translate to reduction in airfares. J Dasgupta, GM (ATC) said, "The purpose of getting the most advanced equipment available at the ATC is to increase the capacity and efficiency of the air traffic management system."
Insiders say that the flight movement capacity at city airport has already reached its saturation level due to cross runways and other topographical constraints. There can be 'practically' no further improvement on that front, they say.
Built at a cost of Rs 110 crore, the tower has modern equipment worth Rs35 crore. The firefighting system is not water based as use of the liquid could damage electronic items and would have a drastic effect on air traffic movements. "A gas based technology has been used in it," said a senior Airport Authority of India official.
Earlier, some foreign airlines had refused to operate, alleging that the old ATC tower was close to the runway and would adversely affect smooth landings and take-offs. With the opening of the new ATC tower, the older one will be demolished after the mandatory requirement of 90 days.
The largest plane
World's largest A380 planes are expected to start functioning from city airport in the next two months. The A380s have double decks and can accommodate 853 passengers in the all-economy class or 525 passengers in the usual three-class type sitting arrangement. The operation of the 4-engine aircraft will lead to a fall in airfare because of wider availability of seats.