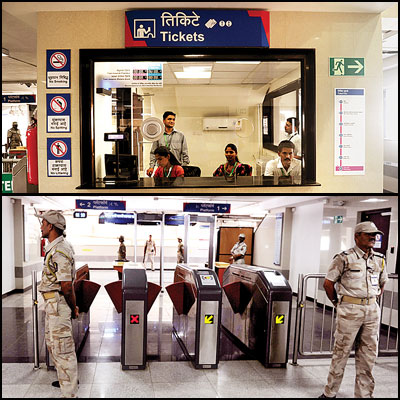 Ten days ago, the state government had issued a notification on offences and penalties while travelling on the monorail. A quick glance at the list shows that the punishment isn't severe enough to deter people from committing offences. For one and a half year, the monorail will run only between Wadala and Chembur. Here's some of the guidelines and penalties:
Only contact-less smart cards and contact-less smart tokens will be sold
No monthly or tourist passes available
No return tickets will be sold
No escalator for another six months
No public conveniences at any stations
Smart cards to be valid for six months from the date of purchase / recharge
Price of smart card: Rs150 (Rs100 refundable security deposit + Rs50 travel)
Children below 90cm height do not need tickets
Journey should start within 30 minutes of purchase of token. After that, it will not be accepted by Automatic Fare Collection gates

PENALTIES
Permissible limit for staying inside the station after entry is 20 minutes for same station and 120 minutes for other station. Overstaying beyond the limit will be charged at the rate Rs 10 per hour and maximum of Rs 100.
Ticketless travel due to loss: Rs200
Travelling beyond the defined destination will be charged with a fixed penalty of Rs50 and additional fare of overstepped distance.
Drunkenness or nuisance: Rs200
Demonstrations & pasting posters: Rs200
Rooftop travel : Rs200
Unlawful entry: Up to Rs100
Walking on guideway beam: Rs200
Endangering safety of passengers: Up to Rs200
Obstructing running of train: Up to Rs200
Obstructing monorail official in duties: Up to Rs200
Needless interfering with means of communication in train: Up to Rs200
Altering / defacing / counterfeiting pass or token: Rs200
Unauthorised sale of articles inside monorail : Up to Rs200
Defacing public notices: Up to Rs200
Unauthorised sale of tickets: Up to Rs200