Mad rush makes authorities close Chembur station gates just before arrival of monorail.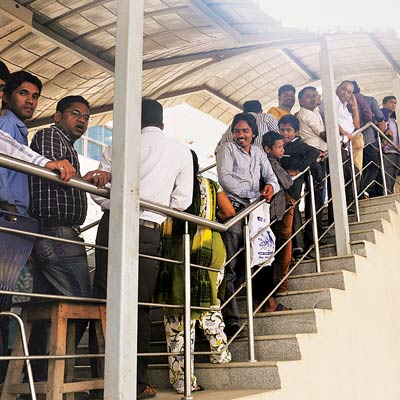 Mumbai's joyride on the Monorail continued on Monday, the second day after the sleek, high-tech rail service opened its doors to the public.
"A total 19,600 commuters travelled on the line on Monday," said Dilip Kawathkar, spokesperson for the Mumbai Metropolitan Region Development Authority (MMRDA).
On Sunday, 19,678 commuters got onto the trains that were so crowded that the operator had to shut the station gates ahead of the scheduled time. It was the same story on Monday, when the security team pulled down the shutters at Chembur station at 2pm.
"There were ample number of people inside the concourse and at the platform levels for the services that were to operate till 3pm. Besides, there was a near stampede-like situation," said an official at Chembur.
On Monday, a total 64 services were operated between 7am and 3.15pm, against 66 on Sunday that operated from 7am to 4.30pm.
The stakeholders met on Monday to review the launch of commercial services and plan the future course. The officials decided not to extend the time of services this month, but run a few extra services as and when it is felt necessary to help clear the rush. The operator expects the rush to continue for at least a fortnight.
The operator also plans to put benches – mainly for the benefit of elders and the disabled – at all stations and install vending machines for packaged water and soft drinks.
Crushing rush On Sunday
Tokens sold 14,926
Smart cards sold 585
Printed tickets sold About 900
Total number of commuters 19,678 On Monday
Tokens sold 15,813
Smart cards sold 185
Printed tickets sold 2,153
Total number of commuters 19,600