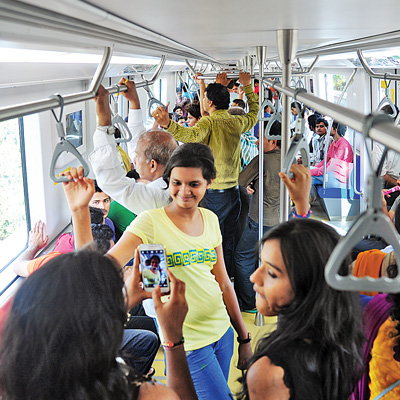 The Mumbai Metro fare of Rs10 is not the cheapest in the world as claimed by Reliance Infrastructure (RInfra)-led Mumbai Metro One Private Limited. The promotional fare of Rs10 irrespective of the distance travelled also happens to be the minimum notified fare, whereas the maximum stands at Rs40.
On Saturday, MMOPL director Debashish Mohanty had announced, "Our fare of Rs10 is the cheapest across the globe."
Forget about the metro systems in other countries, a quick look at the five existing or operational metro rail systems in India shows that other cities have minimum fares cheaper than the one charged to commute between Versova and Ghatkopar.
It isn't surprising to know that the minimum ticket price of Kolkata Metro is the least at Rs5, followed by Delhi Metro's Rs8.
Namma Metro in Bengaluru has kept Rs10 as the minimum fare, but if an individual travels using smart card Rs8.50 is the minimum tariff.
The only private metro rail of India — Rapid Metro Rail of Gurgaon — covers a short distance of 5.1km and has a flat charge of Rs12.
The minimum tariff for Airport Express, which was India's first public-private partnership (PPP) project, is Rs30, but if travelled using smart card it's Rs24. Earlier RInfra was part of the Airport Express, but now Delhi Metro Rail Corporation solely operates the services. Even Mumbai Metro is a PPP project with RInfra in control of operations.
Currently, MMOPL has maintained silence on the fare that will be levied after a month of promotional fare (Rs10). But it has notified a higher fare of Rs10-20-30 and 40, which may come into force after the month depending on the verdict of the Bombay high court.
The state government wants the fares to be kept at Rs9, Rs11 and Rs13 as revised back in September 2013 by chief minister Prithviraj Chavan.