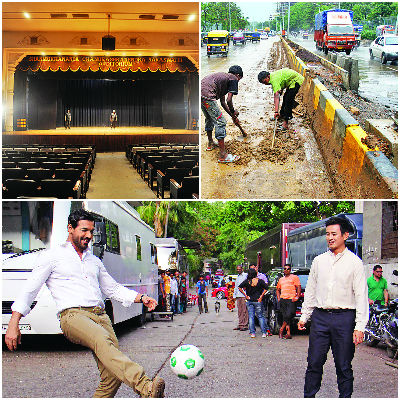 Mucky affairs
Much of the flooding which the metropolis witnessed last week could have been avoided if the BMC had made a small change in its policy. In fact, it is a policy change, which would cost the civic body nothing, but, at the same time, spare the city of flooding on most days of monsoon. Each year, the BMC does so-called pre-monsoon desilting of storm water drains. But there is a strange rule which stipulates that the desilted muck cannot be carted away immediately. It is claimed that when the muck is wet then it adds to its weight and this gives an advantage to the contractor. Hence, the contractor has to mandatory wait till the muck becomes dry and only after that can he clean it. Most of the muck in the pre-monsoon period is dry and there should be no problem in removing them. Several citizens have suggested that the silt should be dumped directly onto trucks from the drains and taken away quickly. What is happening now is that most of the desilted silt gets back into the drains during the mandatory waiting period and that is the reason why we witness frequent flooding. None of the corporators and hardly anyone in the civic administration thinks it's necessary to implement this extremely sensible suggestion. May be the BMC is waiting for a PIL to be filed before getting into the act. In any case, a sick city can be cured only through PILs.
Lady luck
Despite its undisputed status as India's commercial capital, Mumbai continues to stick to its superstitions and faiths. Every morning, hundreds of hotel employees start their day by throwing in front of their hotels the first cup of tea they make. Before any of them have their morning cuppa, they make sure to propitiate the Gods so that there is good business. So do not be surprised if during your morning walk you find a hotel boy emerges with a glass of water and a cup of tea and flings them on to the pavement as the case may be. This ritual has been going on for several decades now. It is said that some of the posh hotels' employees also do the same thing. The other superstition is, of course, the tying of a handful of green chillies and lime on a string and hanging it from the front grille of your vehicle. At almost every traffic signal one can spot people selling these chilly-n-lime things, which are supposed to ward off the evil. Even though the Feng Shui craze is relatively less now, still thousands of homes and shops display horse-shoes and other charms of this Korean philosophy, which are believed to bring good luck. Many citizens also follow the 'rahu kaal' timings and do not undertake any important activity during this period. In fact, the management of one of the city auditorium is known to start programmes only at 6.05pm.
Foodies delight
Talking of auditorium, there is nothing to beat the batata wadas and vegetable patti samosas served with chatni at the Shanmukhananda Hall canteen. These two items are so famous that many patrons makes it a point to gobble them before heading for the auditorium. For the past several decades, the family of the soft-spoken former corporator Ravi Raja, has been running this canteen in a spirit of service. The best besan available in the market and high quality refined oil is used for the preparations. Even the potatoes, peas, etc are of high quality. It is well known that international artistes like Ustad Zakir Hussain, makes it a point to order a round of Raja's batata wadas to be eaten in the green room before the curtains go up. Former chief minister Manohar Joshi, is also known to stop by the hall whenever he is passing by and take a parcel of batata wadas for his family. During interval there is a virtual stampede at the canteen counter and don't be surprised if chatni spills on to your clothes from someone trying to extricate himself from the crowd with plates of wadas or samosas in his hands. Incidentally, the patti samosas are different from the Punjabi samosas sold by Gurukripa Hotel of Sion, Tewari's of Opera House, Sion and Juhu or umpteen number of other places. They are somewhat flat to look at and taste great if made the right way. Smaller versions of patti samosas will fillings of mutton or chicken are also available in all Irani restaurants. Cafe Blitz in Matunga's Aurora Cinema boasted of the best such samosas, which could be downed with paanikam chai. But, unfortunately this is one of the many Irani joints which have downed shutters.
Mumbai's good samaritans
There is no dearth of good Samaritans in Mumbai. There is this industrialist, who prefers to remain unnamed, who comes regularly to the Mahim nature park and does gardening with bare hands. He wants to be close to nature and at the same time help make Mumbai a better place to live in. There is this small businessman of Ghatkopar (E), who visits Rajawadi Hospital every morning before heading to his office at Masjid Bunder. He talks to the poor patients and helps them in whatever way he can. There are number of people like Sangita Zaveri of Chembur, who does not eat their dinner until they have fed the stray dogs in their neighbourhood. Even the rains do not deter people like Sangita. The strays are so fond of such persons that they almost dance in delight when they see them. Then there is this executive, who wakes up at 4am, sweeps the street where his building is situated, goes back home to have his bath and breakfast before driving off to work. A commuter on WR makes it a point to carry along with him several bottles filled with chilled water, which he distributes free to fellow passengers. There are some cabbies and autoricksha wallas, who ferry patients to hospitals for free. Muthumani is a senior citizen, who is forever ready to help out people with funerals. All these people collectively prove that Mumbai is not only about the Sensex and FSI.
Tailpiece: Why the rains have vanished? According to a PJ making the rounds on the social media the reason is simple. Earlier the kids used to sing 'Yere Yere Paavsa...' and these days they are joining English medium schools and singing 'Rain, Rain Go Away.' !!