Former heart patients run fitted with real-time ECG monitoring device to ensure a perfect finish.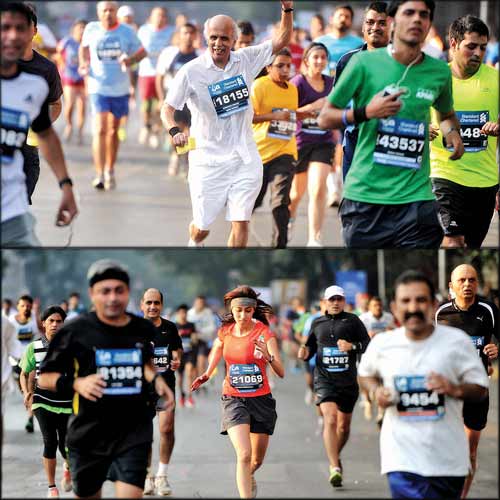 P Venkataraman, 50, has been participating in marathons for four years. A man who had heart problems in the past, made sure he completed the 21-km half marathon in less than 2 hours and 45 minutes on Sunday.
Sunday's Mumbai marathon saw him running with a 4kg load — a device to monitor his heart rate live. He volunteered to get fitted with complicated wiring on his chest as he held on to one kilogram of heavy contraption fitted to his waist.
The device weighs over one kilogram and is one of a kind, indigenously manufactured ECG machine which is under trials in India, said inventor Gajanan Nagarsekar.
"The live ECG device transmits live data of the runners heart health to the doctor's tablet which enables remote medical monitoring of the data no matter where the runner is," said Nagarsekar.
Venkataraman was also shouldering the responsibility of guiding and training over a 100 runners to clock the 21-km run in less than 2 hours and 45 minutes. "I am among the 12 designated pacesetters at the Mumbai marathon. As a pacesetter, it was my responsibility to lead a group of over 100 runners who chose to finish the race in a stipulated time. A rod and flag weighing about two kilos was fitted on my back. Five participants, including I, were fitted with live ECG machines to study the high tech device. As a result of this, I ran the 21-km with around four extra kilos. It was a tiring experience but fun," said Venkataraman.
Five marathon runners, all who had been heart patients, were fitted with mobile electro cardiogram (ECG) machine which enabled the medicos to monitor the heart rate of the runners through an android application.
"We plan to incorporate a blood pressure monitor and a glucometer to track sugar levels along with the remote ECG machine to make it a compact kit for the patient. Marathon was a perfect platform to test this device. We will undertake largescale trials to study its efficacy," said Nagarsekar.
The machine was conceptualised in 2007, but with the emergence of smartphones in 2009, the technologies were merged to aid aged and post-operative heart patients, so that careful monitoring and quick response can be provided in case of a medical emergency, if the device is strapped on to the patient's body.
(Inputs by Karishma Goenka)