Banker 37, photographer 40, in ICCU after collapsing during run.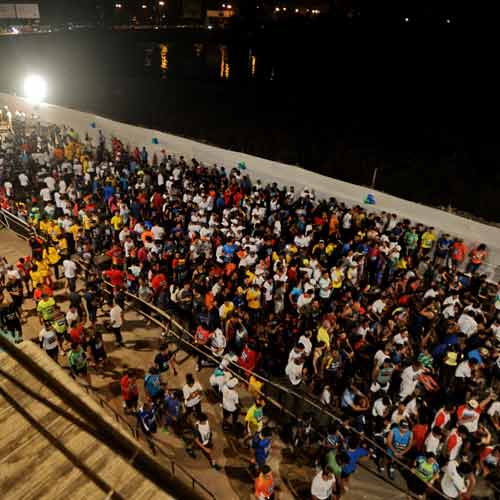 The Mumbai marathon took a lethal turn for three young men with no known history of heart ailments as they collapsed after their hearts stopped beating.
Twenty-four hours later, two of them are in a critical condition at Bombay hospital on Marine Lines.
Amit Kasat, 37, an investment banker with the Standard Charter group, and Viraj Kohwale, 40, a photographer, are admitted in the intensive critical care unit.
Atul Singh, 40, the third patient, a resident of Mahalaxmi, was running the half marathon when he collapsed after suffering a cardiac arrest. He was revived through electrical shocks at the hospital.
He is now stable.
Doctors say none of them has a history of heart blockage. "Kasat is on artificial ventilator support.
He needs medical aid to maintain his blood pressure. His kidney functions are on the borderline," Dr BK Goyal, chief cardiologist, Bombay Hospital, said. "It is possible that he has an undiscovered block in the heart... exhaustion and dehydration might have added to an existing problem."
Indian youngsters are four times more susceptible than Westerners to suffer a cardiac arrest. "At least 5,000 people were screened over a period of 10 years. Of them, about 16% with heart problems were aged below 40. Internationally, this figure is only 4%," Goyal said.
Kasat's heart stopped beating for 20 minutes. He was given electrial shocks and manually resuscitated. The condition of Kohwale is serious. He is in coma. Oxygen supply to his brain was severely compromised when his heart stopped beating.
"His heart is beating irregularly. We have been trying to revive him at brief intervals as his heart stopped beating multiple times since Sunday," Goyal said. "His neurological clinical examination is not very encouraging. He has sustained a hypoxic brain injury due to lack of oxygenation after the cardiac arrest."
Singh, with no history of heart ailments, had a close shave. "All his reports are stable. His electro cardiograms and echo reports are normal. I have no clue how he might have suffered a cardiac arrest," his wife told dna.
Excitement and irregular heartbeat
Doctors say extreme stress and excitement can lead to irregular heartbeats. "The heart can go into spasms and stop beating if a person undergoes arduous activities like continuously running for hours," Dr Ramakant Panda, managing director, Asian Heart Institute, said. "Also, runners get excited as the finishing line approaches... excitement levels go up, leading to cardiac problems."