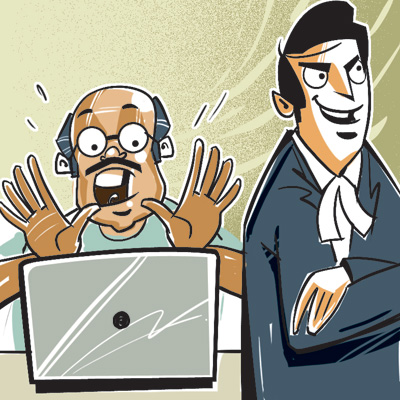 An alleged act of unnatural sex committed some months ago has come back to haunt a 28-year-old lawyer based in Breach Candy.
The father-in-law of the lawyer registered a case with the Mahim police after he stumbled upon a video while browsing through the pictures of some function involving the family. These pictures had been transferred to his daughter's laptop by the accused.
According to the police, the complainant's daughter has been married to the accused, Nihal Wahab Bagadia, for the last four months. A few days back, Bagadia's father-in-law requested him to show pictures of a ceremony taken last year.
Bagadia transferred pictures from his hard drive on to his wife's laptop and by mistake also transferred a video clip. While browsing through the pictures, the father-in-law stumbled upon the video clip where Bagadia was seen indulging in unnatural sex with some unknown young woman.
Deputy commissioner of police, Zone V, Dhananjay Kulkarni said: "The complainant approached us with the clip and filed a complaint against Bagadia. He also handed over the clip, and on basis of that we have registered an FIR and arrested Bagadia."
DCP Kulkarni added: "Bagadia has been arrested for unnatural sex and also for making obscene video of the act."
The police said the complainant had also registered a case of cheating against Bagadia's mother Reshma Bagadia (52) and his sister Nidha Bagadia (22).
As per that complaint, Bagadia was married before he had married the complainant's daughter, and Bagadia's mother and sister hid this fact from them.
"We have not yet arrested Bagadia's mother and sister. We are still verifying the complaints against them." He added: "The police are investigating in what circumstances Bagadia had made the video."