Arrival of swankier but taller new rakes and raising of tracks to save vital electrical systems from monsoon fury leave a wide gap between trains and platforms that's not easy to bridge.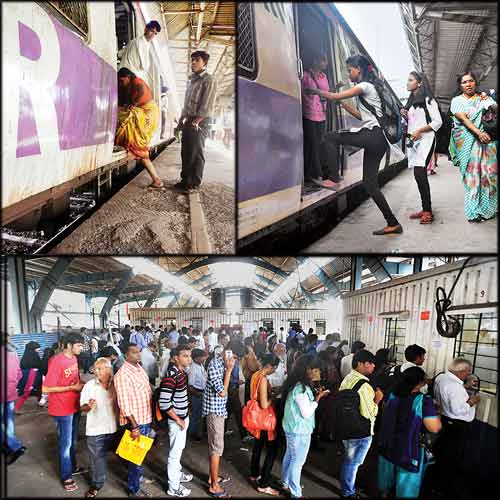 In a city where people have no time and have the habit of catching running trains, one of the biggest dangers they face is the gap between the platform and the floor of the train. The problem is that the gap, despite big and small efforts, is something just no one is able to tame.
Just when the railways spent a few crores trying to raise the height of a few platforms, the Siemens rakes – with a floor height of 1220 mm – arrived, nullifying whatever raising the platforms had got. To make matters worse, the new Bombardier rake that has come in for trials is higher still at 1230mm. So the gap is now a yawning one. In some places the Bombardier rake would leave a gap as high as 470mm against a stipulated gap that should be anything between 342mm to 437mm.
The Western Railway has written to the ministry if the height of the platforms, at least in the suburabn section of Mumbai, can be raised to a height of 920mm. Under railways rules, the maximum height of platforms from the top of the rails should be anything between 760mm to 840mm.
However, the point remains that even if all this 'down to the last mm' calculations are taken care of, there is another phenomenon that contributes to keep the gap the way it is. Monsoons in a bowl-shaped city like Mumbai with several low-lying areas means railway officials are faced with a Catch-22 situation. To ensure that tracks don't get flooded and maroon trains, authorities every year raise the height of the tracks. This is to protect the electrical systems of the train and protect its ability to wade through the accumulated water.
But raising of the tracks also means the height of the platform goes down by than many inches.
The result – a dangerous gap, good enough to pull in a person in case he slips while hopping on to a train.
On Central Railway, between 1997 to 2000, the authorities lifted the tracks between CST and Diva by more than 6 inches. The last 13 years has seen a few such raising in Mazgaon, Byculla, Parel, Currey Road and Sion.
On Western Railway similar raising of tracks took place at Dadar, Matunga, Bandra and Amdheri.
The tracks along platform number 9 at Andheri saw the biggest raising at almost a feet. Since the raising of platforms and lifting of tracks – though deeply interconnected – happen at different points in time, the interim throws up a gap far beyond railway rules of safety and plain passenger comfort.
The Town Hall Datum
A point close to the Town Hall at Apollp Bunder is the place from where the height of the land above sea level is calculated for railway tracks across the city. At 24.5m, the THD – as it is called in railway parlance – demands that tracks need to be above that level to ensure they don't get flooded. When there is a high tide, like say 4.25m one, the requirement for tracks to ensure they don't flood becomes 28.75m. The problem is that almost all stations on CR and some on WR are lower than this point, with the stretch between Sion and Kurla being the lowest.
Upgrade of platforms must be fast-tracked
—G R Madan, Retired general manager, Indian Railways; Former director, Mass Rapid Transit System, MMRDA
Indian Railways is the most studied organisation in the world. There is hardly an area of concern for which detailed recommendations are not available. The passenger amenities and facilities is a subject matter of discussion at all levels. Railway authorities are fully aware of the prevailing deficiences at all stations and doing their best to augment / improve the facilities in a planned manner within the available funds under this plan head. The progress is not as per expectations of passengers mainly due to inadequate funds. Platform height has been specified for various classes of stations depending upon the quantum of passenger traffic. Progressively platform levels are also being raised in conformity to standards specified. Considering very heavy commuter traffic on Mumbai suburban stations, there is a need for fast-track upgradation of platforms at all stations. Railways may consider to undertake this job as a special project. It can be even part of Mumbai Urban Transport Project – II as modification or MUTP – III now under finalisation. Conventional approach is not good enough to tackle issues demanding urgent solutions.
VILE PARLE
As compared to the eastern side, the western part of the suburb sees more footfall and is crowded. With an escalator, which was installed last year, the station gives the impression of a new age commute point, but dangerously low platforms take away all the sheen from it. The station even lacks basic amenities such as drinking water. There is a need to provide bigger booking centres with more counters along with additional ticket vending machines.
JOGESHWARI
The platform-train gap far exceeds the rulebook figure, making boarding a train or alighting a risky affair. The present arrangement of two FOBs is inadequate. Lighting on platforms 3 and 4 is poor.
The entry and exit on the eastern side is one big mess, with autos and hawkers blocking the way.
Trespassing is another big issue at Jogeshwari, with several people choosing to cross tracks even to switch platforms. There are hardly any drinking water dispensers.
GOREGAON
There is a need to extend the new bridge for better passenger dispersal on the eastern side.
Even the space outside station inadequate for better commuter movement along with vehicular traffic movement. The railways should urgently increase budget allocation for raising the height of all four platforms.
MALAD
More-than-the-desired space between trains and platforms is a common feature at Malad, though many services originate and terminate here. There isn't a single ticketing window or a vending machine on the eastern side. For decades now, accessibility to the station from this end has remained bad with only one bridge acting as a connect between east and west. There is a provision of drinking water only on platform No.1 but the water does not meet hygiene standards.
KANDIVLI
Like many other stations, the death trap exists here too. While there are plenty of ticketing counters and vending machines, authorities should focus on areas like public conveniences, water, access route to the station from the western side. As the existing two FOBs have proved to be inadequate to cater to the growing passenger rush, one more bridge is being constructed at the northern end.
BORIVLI
Long queues are a common sight at the booking offices. Barring one, most of the platforms pose great danger to commuters due to low height. One problem that needs to be addressed is better connectivity for platform Nos. 7 and 8 with the first platform. Whenever a train terminates, the passenger rush is so much that the existing arrangements are ineffective for quick dispersal.
There are three FOBs, while another is under construction.
DAHISAR
As Dahisar is within Greater Mumbai civic limits and well connected with Borivli by road, many commuters prefer going to Borivli to board trains during peak hours. This reduces footfall at Dahisar, but the danger of wide platform-carriage gap still lurks around. During early morning and late nights, this station is deserted and ill-lit. Presence of less number of security personnel makes it a perfect setting for criminals to prowl around. No provision of potable water.
MIRA ROAD
This area has seen its population rise manifold in recent years as this locality is right next to Mumbai limits. But the rail travellers have not got a fair deal. The indicators do not function properly, leaving people to keep guessing about arrivals. This is in addition to the more-than-the-desired space between platform and train footboard. The approach roads to the station are lop-sided, with people rushing only on the northern side. The other two entrances have been used to their optimal level. The booking counter on the bridge is littered with dirt and always crowded. Presence of beggars and hawkers further gobbles commuter space.
BHAYANDER
In order to make Bhayander station passenger friendly, hosts of measures are needed, with the most basic one being increasing the height of all the six platforms. Only some platforms have drinking water taps and more should be provided on others. The eastern and western sides of this station have limited booking counters that are unable to cater to the rush. Like many other WR stations, the area outside this station is congested, which hampers pedestrian movement.
NAIGAON
A first look at this station gives the feel of a rural setting – lots of open space outside and narrow roads. On the eastern side, there are no lights on the approach road. Here too, commuters are forced to jump to get in or alight from trains. Those carrying luggage have to face the tough task of hauling it up. Poor lighting, lack of drinking water are perennial problems.
VASAI ROAD
The first and foremost correction work that should be done is to have proper connectivity of platform 1 with the rest of the station. Currently, one has to get on a bridge to enter the first platform. More FOBs are also needed to effectively clear the growing crowd at this junction railway.
But the platform-train hole remains a huge concern. The roads outside the station are congested.
In the last few years, Vasai has witnessed drastic transformation, and is also a junction where one can get trains for Panvel, but the amenities are no better than that of a minor station.
NALLASOPARA
Most of the residents residing at this station prefer to do a "return journey" during peak hours to travel comfortably. Despite presence of three FOBs, there is a need for a wider and bigger bridge for commuter convenience. All the platforms are inadequate as far as height and length are concerned.
VIRAR
Having a total of eight platforms spread out at different ends, Virar station is an example of haphazard planning. There is only one FOB, which forces commuters to jump tracks. Add to this more than prescribed space between train and platforms. There is an urgent need for improving the connectivity of platform No. 8 with the rest of the station. The scene outside Virar west is chaotic, with little space available for passenger movement.
ANDHERI
Another busy station on Mumbai's suburban transport network, Andheri has nine platforms, catering to main line slow and fast trains and the harbour route. It is also a halting point for many outstation trains. However, there is no respite from the 'high jump' for the commuters. There have been many instances of passengers slipping on to the tracks or getting stuck between trains and platforms. As construction work is underway to erect is new station building on the western side, authorities have temporarily shifted the booking counters into portable cabins. But more counters are certainly needed. Congestion on approach routes is another problem.