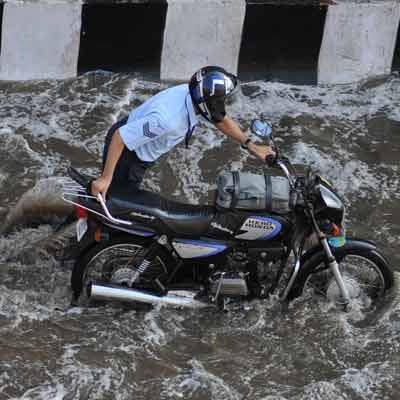 Heavy rainfall across Mumbai since Thursday evening has hit normal life in the city on Friday .
Many arterial roads witnessed waterlogging, with commuters facing a tough time in areas like Colaba, King's Circle, Kurla, Ghatkopar, Vikhroli, Link Road, Mahim Causeway, Hindmata, Dadar TT, LBT, and Parel Road. Also, traffic jams have been reported on the Eastern-Western expressway.
Water logging at Parel- Hindmata. Motorists adviced to take alternate route @smart_mumbaikar @TrafflineMUM

— Little Yadav (@littleyadav) July 11, 2014
Waterlogged! #RainsAndRoads RT @Aaty9994: @TrafflineMUM @smart_mumbaikar .SOUTH MUMBAI PAREL pic.twitter.com/VbT9Fep3Rc

— Traffline Mumbai (@TrafflineMUM) July 11, 2014
According to the Met department, Colaba has recorded 13.4 mm rain, while the figure stood at 44.8 mm in Sanatcruz till 11.30 am. Thane, Kalyan, and Raigad also witnessed heavy rains.
Local train services across the city and the suburbs are severely hit. Services on Harbour line have been badly hit, while the Central line trains are running around 30-45 minutes late due to waterlogging at Kurla. The Western line fared no better, with an average delay of over 20-25 minutes.
The Metrological department has predicted heavy rainfall in the city over the next 48 hours for the city.
Rainfall in Mumbai till 8:00 Am
Mumbai city : 67 mm
Eastern suburb: 51mm
Western Suburb: 40 mm
Waterlogged! RT @abhayparulekar: @jeeturaaj ohhh Dadar TT with single line towards south mum. #RainsAndRoads pic.twitter.com/93JuVKFZgB

— Traffline Mumbai (@TrafflineMUM) July 11, 2014
@TrafflineMUM @smart_mumbaikar Monsoon Finally Lashes Mumbai With Heavy rain... slow down traffic pic.twitter.com/3dTv0HCAZp

— Nitin Lahare (@NitinLahare) July 11, 2014
#Monsoon2014 RT @girishmallya conditions inside Kamala, #Mumbai dread what it's outside in LP pic.twitter.com/1iI7VHG1eb

— Netra Parikh (@Netra) July 11, 2014
#Monsoon2014 RT @arifkhan7 Don't even think of coming nr Elphinstone at this hour. #MumbaiRains pics via my flatmate pic.twitter.com/nfOeVjTqtf

— Netra Parikh (@Netra) July 11, 2014