Working for a city magazine, the woman had gone for an assignment to Shakti Mills compound near Famous Studio around 6 pm.
A 23-year-old woman photographer was allegedly gang-raped by five men in Mahalaxmi area in Mumbai on Thursday evening.
Interning for a city magazine, the woman had gone for an assignment to Shakti Mills compound near Famous Studio at around 6.30 pm. She was accompanied by a male colleague. It is not clear whether he was a journalist as well.
According to initial reports, the two visited the mill to take photographs. She was on an assignment doing a story on chawls and mills in Mumbai. They were then told by a group of five men that they would require permission to take pictures. On this pretext, the duo was taken to an area where the male colleague was tied up and the girl raped.
The Shakti Mills compound is infamous for drug addicts. The area where the girl was raped has a dilapidated building which is deserted. The girl reached Jaslok Hospital at Peddar Road at around 10 pm. Hospital authorities who treated her informed the NM Joshi Marg police about the case.
Preliminary reports suggested that she has sustained multiple internal injuries, police said.
It is still unclear how the girl reached the hospital. The identity and number of men who violated her is not immediately clear. Police teams have reached the spot and are investigating the case. Three drug addicts have been picked up for questioning. A total of 20 people have been detained by the Mumbai police.
Maharashtra Home Minister RR Patil told dna that the government had taken serious note of this and that they will do everything possible to nab the culprits.
In a statement given to police, the girl said the five goons were present in the Shakti Mills compound. They started making lewd remarks and harassed her. When her friend intervened, two of them assaulted him. Three others took the woman inside the dilapidated structure and raped her.
Why aren't women and girls safe in India?
Latest updates:

* News has just come in that the Mumbai gang-rape accused has been attacked with an axe outside court. More details are awaited.
#MumbaiGangRape arrested accused Abdul had porn clips on mobile and was sexually repressed playing out fantasy of gangrape with media intern

— dharmesh thakkar (@news_houndz) August 23, 2013
Our reporter was at Hutatma Chowk protesting with other fellow colleagues.

BJP workers protesting the #mumbaigangrape at Churchgate station. Seems like the politicisation of the issue has started as usual.

— Maleeva Rebello (@malbello) August 23, 2013
Hundreds of journalists gather to protest against the #mumbaigangrape at Hutatma Chowk.

— Maleeva Rebello (@malbello) August 23, 2013
Many media students also joining the protest at Hutatma Chowk besides senior media people. #mumbaigangrape @dna

— Maleeva Rebello (@malbello) August 23, 2013
_Mumbai police chief Satyapal Singh holds press conference on Mumbai gang-rape case. Accused told the girl and her male colleague that they were on railway property and photography was not allowed, said the police. "Don't want to name the accused, it's a sensitive case. Some men told her she cannot enter the area as it is a restricted area. The men tied the male friend's hands with a belt. The incident took place at 6.30pm. It was a very heinous crime. Two of the accused repeatedly raped the girl, turn by turn. There were only two men at first, they called one more, and then called 2 more. Investigations are on and giving any additional inputs on the suspects will hamper it.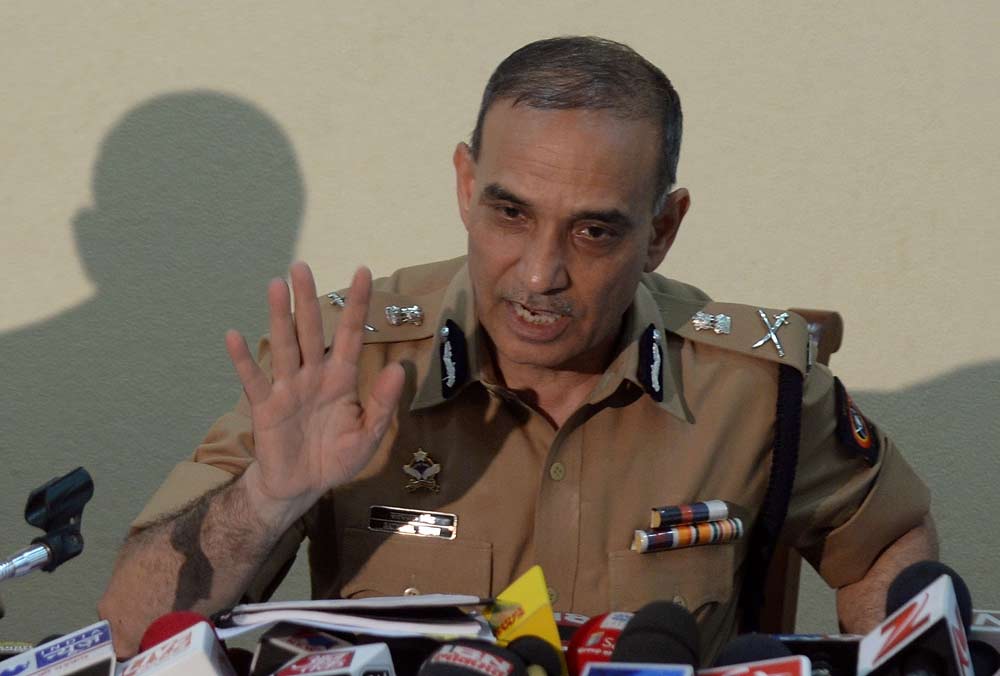 Mumbai Police commissioner Satyapal Singh's press conference on Mumbai gang-rape case, excerpts:
1) 20 teams were formed to investigate the case.
2) One has been arrested, 4 others have been identified.
3) Wont reveal names of 5 accused.
4) We are still finding out the profile of the accused, they are around 20-years-old, lived close to the mill.
5) Woman was gangraped at 6 pm, the police was informed at 8 pm.
6) Man arrested has confessed to the crime.
7) Will seek maximum punishment for accused.
8) Will request govt to conduct the case via a fast-track court.
9) Accused told the girl and her male colleague that they were on railway property and photography was not allowed.
10) Suspects first approached victim and her colleague to harass them.
11) The victim is composed and stable.
_ Moving swiftly, Mumbai Police claimed to have cracked last evening's gang-rape case of a photojournalist, with the arrest of two of the five alleged accused. Police sources said two of the accused were arrested this morning on the basis of the statement of the victim after a manhunt was launched for them in the wake of a massive public outrage. Efforts are on to apprehend others, they said.
_ Home Ministry has sought a report from Mumbai Police on gang-rape of a photojournalist, confirmed MoS R P N Singh.
_ Shiv Sena activists protest in Mumbai over the gang-rape incident last night.
_ Uproar in Lok Sabha over the gang-rape of the photojournalist. BJP leader Smriti Irani said that only 33% complaints made by women are converted into FIRs. She also questioned, " For how long can we be muted spectators to such crimes against women?"
_Govt to seek suggestions from journalists on women's safety: RR Patil
BJP leader Smriti Irani slams govt for failure to stop rising crimes against women

Maharashtra Chief Minister Prithviraj Chavan visits hospital to meet the family of the gang-rape victim's
_ " I have spoken to the Mumbai police commissioner. He has taken one accused into custody. They are still searching for others, " says home minister Sushilkumar Shinde.
_The police are scheduled to hold a press conference at around 1.30pm to further inform the public about the fact that they have arrested all the accused. As many as 12 police teams fanned the city throughout the night in a search to apprehend the suspects.
_ A special squad has been formed by the local police as well as by the Crime Branch to probe into the case and investigators have fanned out across the city to trace the accused.
_ The doctors at Jaslok Hospital have said that her condition is serious but stable. " With regards to patient confidentiality, we cannot give you any further information. We would request you to contact the right authorities for any further information. In order to ensure smooth services to all our patients, we request the media and television crews present at the hospital gate to avoid causing traffic congestion, " said Dr Tarang Gianchandani, Acting CEO & Director - Medical Services, Jaslok Hospital.
_ Police Commissioner Satyapal Singh has said that the accused are alleged to be drug peddlars. " One of the man was caught smoking, but we are not yet sure," he said. He also asserted that the accused will be arrested at all costs.
_Mumbai Police have released the sketches of the accused in the gangrape case. The police have also formed 12 teams which have spread out across the city to nab the five accused.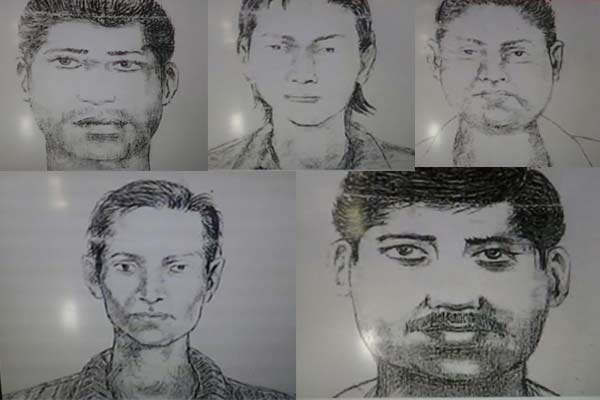 Click here to help the Mumbai police nab these men.

- Police claim the victim has identified two of the accused by their names. The girl told police that two of them were calling each other as Rupesh and Sajid, they said.
- In a statement given to police, the girl said the five goons were present in the Shakti Mills compound. They started making lewd remarks and harassed her. When her friend intervened, two of them assaulted him. Three others took the woman inside the dilapidated structure and raped her.
- Dr Taran Gyanchandani, acting CEO of the hospital, said, "We are doing the needful...she is under strict observation. At the moment we can't say anything."
- The statement of the victim's friend has been recorded and sketches of the culprits are being prepared, police said.
- The girl has sustained several injuries.
- Maharashtra Home Minister R R Patil visited the victim at Jaslok hospital. "This is a very serious matter. We have taken note of it. The accused will be arrested soon," Patil told reporters outside the hospital.
-The police has released sketches of the accused
He said Mumbai Police Commissioner Satyapal Singh has been directed to ensure that the culprits are arrested soon.
Three days ago, a US woman was also attacked by an unidentified man in a first class ladies compartment between Marine Lines and Charni Road station.
All five accused in Mumbai gang-rape case held
Report: No minor among accused, confirm police
Political reactions to this case
_ "It's unfortunate, strict action should be taken, Parliament passed a stringent law, it should help punish the guilty," said Meira Kumar, speaker of Lok Sabha.
Country can't afford insecurity of women: Kapil Sibal on Mumbai gang-rape case

_ "There should be strict action against the accused. We should use them as an example to ensure that no one else would dare to commit such an act again," said Naresh Agarwal, Samajwadi Party.
_ "This is a ghastly crime. Mumbai is a place where such incidents are rare. It has an image of a society that takes care of its women. Having said that, I am sure that the police are doing their best to apprehend those accused. So my only appeal is to the Mumbai police, to catch those responsible for this incident," said Rajiv Pratap Rudy, BJP
_ "These people do not fear the law. I condemn this horrid crime. The government must take action. It is appalling that such an incident has taken place in a city like Mumbai which is considered relatively safe for women. How on earth do you expect girls to go out and carry on with their work?" said Najma Heptullah, BJP.
_ "I am extremely shocked to hear the news. With short staff of the police, I think Mumbai is now being susceptible to such crime. I will not blame the police but measures to curb such heinous crimes have to be taken," said Lok Sabha MP Priya Dutt.
Politicians aghast at Mumbai journalist's gang-rape
_ "There was absolute no security in the compound. This unfortunate incident raises many questions. The law does not provide any deterrence to prevent such crimes against women," said BJP leader Smriti Irani.
Health update:
The photojournalist who was gang-raped was admitted to private-run Jaslok Hospital at 8 pm on Thursday. The victim has sustained external and internal injuries on her body.
"She underwent a minor surgical procedure in the hospital and is stable now," said Dr Tarang Gianchandani, acting CEO and medical director at Jaslok Hospital in South Mumbai.
"The victim is mentally depressed. She was earlier bleeding however her bleeding is under control. She has sustained blunt trauma to her body but she hasn't sustained any fractures. We cannot however comment on her discharge from the hospital as yet."
The doctors have collected the victim's blood and body fluid samples and sent it to the forensic lab for tests.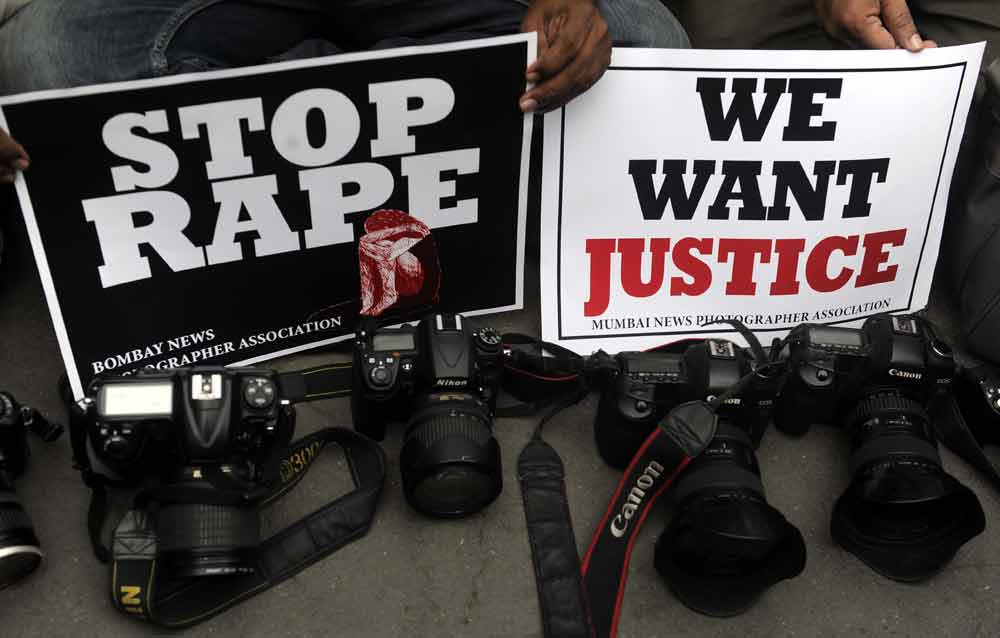 Journalists and political parties protest against Mumbai gang-rape
There were a number of protests held in the city against the rape of a photojournalist on Thursday night in Mahalaxmi.
Journalist in Tamil Nadu, Kolkata and photojournalist in Assam staged demonstarations to protest the gang-rape of the Mumbai photo journalist
How men can ensure women's safety
The Zero Tolerance campaign started after the murders of Keenan and Reuben by eve teasers in Mumbai in 2011, have since been working on the implementation of the Dakshata Samiti model. To read their statement and participate click here
dna photojournalist Shraddha Bhargava-Chaturvedi talks about safety as a woman professional in the city. Click here to read her take
Is India safe for women?
Almost everyday, cases of rape and sexual abuse are being reported. Below is a work-in-progress map to archive these and highlight the increasing incidents of crimes against our women.
View Cases of rape and sexual abuse in India in a larger map