MU launches book, organises workshops but yet to repair its own wall at Kalina campus.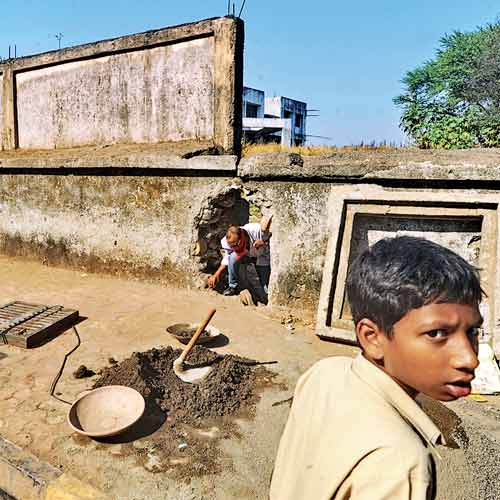 The University of Mumbai is involved in a number of initiatives for the cause of women's safety, right from a book launch that happened on Monday to scheduling a series of workshops across six districts in the state. However, there's trouble in its own backyard, quite literally, with a broken wall greatly compromising the safety of women on campus.
University officials, while announcing the workshops in Mumbai city and suburbs, Thane, Raigad, Sindhudurg and Ratnagiri this week, said these initiatives are to pay homage to the late Delhi gang rape victim, and added, "These will help harness positive and infinite energy, create awareness of strength and pride of women among girl students."
However, on entering the 230-acre Kalina campus near the Bandra-Kurla Complex, the crumbling boundary wall, on the side of a UTI Bank branch, is in stark contrast with the varsity's initiatives.
The wall, which collapsed nearly three years ago due to heavy rains, now gives easy access to hundreds of trespassers every day, a grave risk to women compounded by a deserted building near the campus.
Despite repeated complaints by students, the wall hasn't been repaired yet. The matter was even raised in the October senate. "The deserted building is frequented by drug addicts and alcoholics through this route," said senator Sanjay Vairal.
The campus houses two girls' hostels with over 350 students. Many of them have stopped taking an evening walk due to fear. "Moreover, hundreds of day scholars, especially the postgraduate and research students stay till late in the evening. They feel insecure when it comes to walking from one department to another or towards the gate," said a student.
A hostel student said, "The broken wall is scary. Several men trespass every day... In the evening, when the day scholars leave, the campus looks deserted."
To make matter worse, over 40 per cent posts of security guards, including women guards, are lying vacant. Another hostel student, who hails from the North-East, said, "We have raised the issue several times with the security officials as well as the higher-ups, no one pays heed. It seems they are waiting for some untoward incident to happen."
"Security at the university is a chronic issue. A year ago, the varsity-appointed Rajadhyaksha committee had said the university needs at least 350 guards to man two campuses, the Churchgate office and Thane-Ratnagiri sub-centres. However, the varsity still has only 200 guards, of which 75 per cent are on a temporary basis," said student leader Santosh Gangurde.
He added that the temporary staff is untrained and not equipped to handle a critical situation.
"Some of them are hired from a private agency. Who will be held responsible in case of any incident?," said Gangurde.
Vairal said, "The compound wall is broken and unmanned, the whole security is a farce. This extreme callousness explains that only 'tokenism' prevails in the university instead of seriousness."
Underplaying the issue, vice-chancellor Rajan Welukar claimed, "A tender has been passed and the repair work would commence soon." No deadline was given by him.
The students are not satisfied with Welukar's response. "This is just another promise made by the him. He doesn't care about our safety, as his own house is well-guarded," said a student.