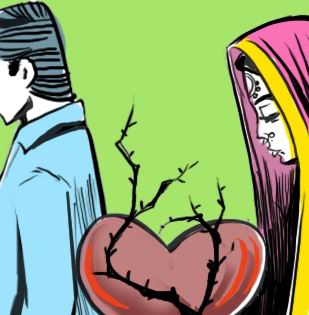 Is there anything as too much sex? Well, the family court thinks so.
The court recently granted a man divorce because his wife constantly demanded to have sex with him. The divorce was granted ex parte as the woman did not appear before the court even after she was summoned.
In his divorce petition in January 2014, the man said they got married in 2012 and started living with his joint family. He accused his wife of being adamant, aggressive, stubborn and autocratic. She did whatever she felt like without caring about others, he said.
Moreover she had an insatiable desire for sex, he alleged. She did not allow him to sleep in the night and it was hard to satisfy her even if he had sex with her two or three times in a row. Also, she demanded oral sex and often forced him to take tablets to increase his stamina. He accused her of forcing him to have unnatural sex.
"Whenever he (husband) tried to resist against the same, he was abused by her and he had to succumb to her pressure. The husband's profession made him work in three shifts. However, after work he was compelled to satisfy her lust for sex and only after she was satisfied, he was allowed to sleep," read the man's petition.
The petition cited an incident where he had stomach ache and was admitted in hospital. The woman had gone to her sister's house and she did not return for two weeks even after she was informed about his condition. When being discharged, doctors advised him not to have sex. But she refused to listen. Which is why he had to be again admitted to hospital.
The man's family tried to intervene and convince her, but in vain. The man suggested that she meet a psychiatrist but she refused. Instead she warned him against talking about it to anyone. She allegedly threatened to end his life and commit suicide.
"It is intolerable for him and he cannot bear anymore atrocities at the hands of the respondent (woman). He apprehends danger to his life and limb. The respondent has made his life horrible by her cruel behavior."
Since the woman did not appear before the court even after being served with summons the court accepted the grounds of cruelty made by the husband under section 13 (1) (1a) of the Hindu Marriage Act and dissolved the marriage by a decree of divorce.