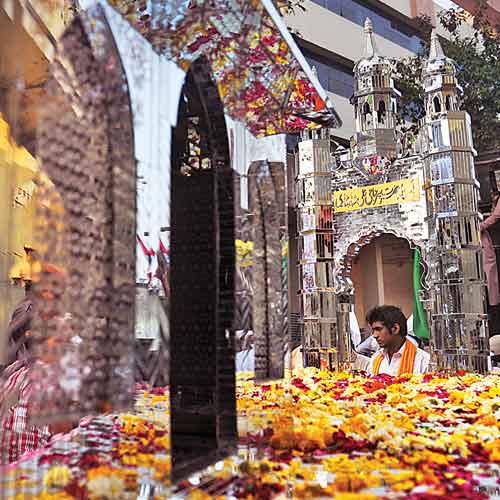 If one wanted to know how the city celebrated the birth anniversary of Islam's Prophet Mohammed, a look into the choc-a-block streets of Byculla on Tuesday would have given them a fair idea. Thousands danced on the streets, some shouted slogans thanking the Prophet, and a few just wanted to be part of the festive spirit by watching the various floats that passed by.
Khilafat House was one of the first places where the procession began. Over 30 floats passed through 10 different locations before ending at the Haj House at CST. Each float was decorated with fruits and flowers and had a replica of some of the prominent worship places of Muslims.
The replicas included of Holy Kaaba, Mosque of Prophet, and some prominent Sufi shrines like Ajmer Sharif. Trucks that did not have replicas had children and members of the community showering rose petals on people. Some even sang songs in the honour of the Prophet.
"We celebrate this day because he taught us a lot of things. He showed us the righteous path. It is through his teaching that we lead a clean life," said Rehan Shaikh, 24-year-old, a resident of Mumbai Central. Shaikh, who like others, bought new clothes for the day and visited different processions. "We first do charity work and then meet friends or come to see the processions," said Shaikh.
While Shaikh had come to Byculla, there were many, who had the comfort of their balconies and clicked photographs. Syed Samir, who attended the procession with his son, said, "I have been coming to processions since the time I gained understanding about the Prophet," he said adding, "This is the reason, I got my two-year-old son along too — so that he could learn more about Prophet Mohammed. "
Mehrunissa Khan, a resident of Hans Road, came along with her grandchildren. "We tell our children to take inspiration from his life. I tell them to learn and educate themselves and live a good life," said the 50-year-old Khan.
As Khan taught her children to earn a living by looking up to the teachings of the Prophet, many who have had a hard time earning their livelihood, set up stalls to make the most of the day. "It helps us earn some money and manage our expenses," said Mohammed Ehsaan, who every year sets up a kebab shop near Byculla Bridge.
Some like the Byculla Fruit Merchant Association, who are better off, gave free water and fruits to followers. "We provide around 10,000 litres of water to people and unlimited fruits," said A Rehman, joint secretary of the association.