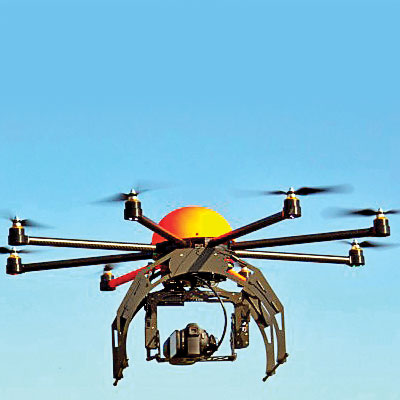 In what could cause serious security concerns for the Mumbai Police and other security agencies across the country, a city-based pizza outlet used an unmanned drone to deliver a pizza.
On May 11, Lower Parel-based Francesco's Pizzeria conducted a test flight of the unmanned drone and successfully delivered a pizza to a customer located 1.5km away. The police, who were unaware of this, have expressed serious concerns and will seek details from the outlet.
"All of us had read about (global e-commerce giant) Amazon's plans of using drones. We successfully carried out a test delivery," the outlet's chief executive Mikhel Rajani said. He stressed this was only a test flight but its results confirm that it can be used routinely in a few years.
A four-rotor drone took off with the order from its outlet and delivered it to the terrace of a high-rise residential building in Worli, Rajani said, claiming that it's for the first time that the ubiquitous drone has been used for such a purpose in the country.
The eatery, which has been in operation for two years, has made a video of the delivery, he said, adding an auto engineer friend helped in making the flight possible.
A senior police officer said this was a grave security concern. "We can't have objects flying across the city. It is scary. Unless there is proper police, security mechanism in place, such objects should not be allowed to operate," he added.
Additional commissioner of police (central zone) Madhukar Pandey said Air Traffic Control (ATC) should have been intimated by the pizza outlet. "We are highly concerned about remote-operated aerial vehicles, specially unregulated or unmonitored ones. We will ascertain the facts with the pizza company as well as ATC and take further action," Pandey said.
Zonal deputy commissioner of police Vinayak Deshmukh said, "I am hearing about such a thing for the first time. Also, I think that they need to take clearance from the Directorate General of Civil Aviation (DGCA) for flying any such thing."
Sunil Jain, senior inspector of Worli police station, under whose jurisdiction the pizza was delivered, said, "We were not informed about use of any kind of drone and neither did we receive any intimation from the company." The police should have been informed about it, he added.
Meanwhile, Pahad Azad, who put together this project for the pizza chain, said DGCA permission was not sought. "It was a hobby aircraft, which was modified to carry a pizza and, since we were not flying it near any sensitive zone, taking permission from DGCA was not required," Azad said.
He added that the exercise was more of a technology demonstration and they are not planning to start the drone-delivery service anytime soon. "The DGCA has laid down rules according to which a model aircraft can be flown in a visual range, provided it is not near airports and defence facilities," Azad said.