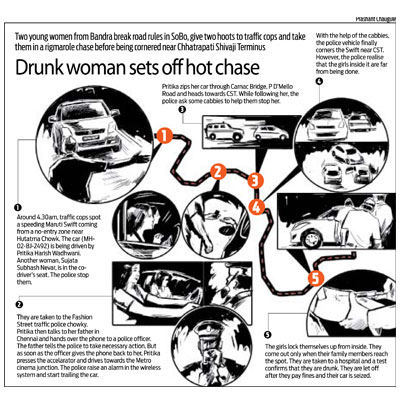 An apparently sozzled woman in a red Maruti car triggered a high-speed chase in the early hours of Friday at Fort. The police had to take the help of cabbies to block her path before forcing her to stop. The driver and her friend took the drama to the next level when they locked themselves inside the car till their family members reached the spot.
Around 4.30 am, traffic cops spotted a speeding Swift coming from a no-entry zone near Hutatma Chowk. The car bearing registration number MH-02-BJ-2492 was being driven by a young woman, later identified as Pritika Harish Wadhwani, with another woman, Sujata Subhash Nevar, in the co-driver's seat, said Inspector Nishikant Patil of Colaba traffic division.
His colleague Sub-inspector Devdas Paradkar said the cops asked the Pritika to stop and accompany them till the traffic police chowky on Fashion Street. "At the chowky, she phoned her father in Chennai who told us that his daughter's mother was unwell and that we could take necessary action. As soon as we handed over the phone to her, she sped away towards Metro Cinema Junction," said Paradkar.
While police vehicle began tailing the Swift, cops also raised an alert over the wireless system. "The car zipped through Carnac Bridge, P D'Mello Road and was heading towards CST. Enroute, we asked a few cab drivers to help us intercept the Swift and finally managed to corner it at CST," Paradkar said.
However, the women were far from being done. They locked the doors from inside. "We then called women constables from Azad Maidan police station. Meanwhile, the duo had already informed their family members who rushed to the spot," said an officer from MRA Marg police station.
The police learnt that Pritika and Sujata, both 23, are residents of Hill Road in Bandra (W). "Their breathalyser tests showed that they were drunk after which they were sent to St George's Hospital for blood test. Pritika was charged under various sections of the Motor Vehicles Act, including drunk driving, not possessing a licence, driving without insurance, dangerous and reckless driving. Nevar was charged for not stopping a drunk person from driving a car," the officer said.
Pritika and Sujata were let off after being fined of Rs7,000 and Rs1,500 respectively, while their car has been seized by the police.