Rampant exploitation of patients by medical practitioners to earn a quick buck rings alarm bells for the Indian Medical Association, which will soon launch a massive campaign against the unethical practice.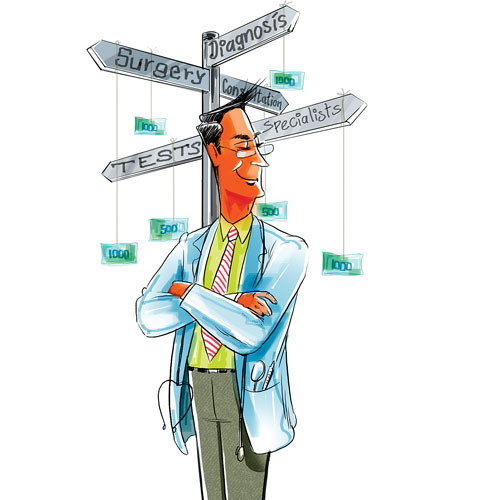 With growing instances of doctors compelling patients to undergo treatment/tests at hospitals and labs of their choice to earn commission, the Maharashtra chapter of the Indian Medical Association has decided to 'sensitise' medical practitioners to the evils of this unethical practice.
IMA-Maharashtra, the biggest body of doctors in the state with 40,000 members and 200 branches, will soon launch a massive campaign, appealing to doctors against the 'cut culture'.
"Next week, there is a national conference of IMA where we will be raising this issue," said Dr Anil Pachnekar, president of IMA-Maharashtra.
The IMA push comes in the wake of a damning exposé of this kickback system in prestigious Lancet medical journal by Mahad-based Dr H S Bawaskar, who has been fighting to weed out the menace of commission.
Many doctors, who dna spoke to, admitted that the 'refer-and-earn' practice has become widespread in Mumbai, Thane, Pune and other cities. In fact, a hospital in the western suburbs has three staffers only to deliver commission envelopes to doctors. A SoBo doctor said the 'fee', which was earlier in the range of 10 to 15 per cent, has today shot up to nearly 50 per cent.
Noted cardiologist Dr Sandeep Rane, a vocal critic of the 'cut culture', said the practice brings a bad name to the medical fraternity. "The sooner it ends, the better for all the stakeholders."
Ravi Duggal, an activist from the People's Health Movement said it is an open secret that most of the medical practitioners accept money for referring patients to diagnostic labs, hospitals and super speciality doctors, but nobody is willing to talk against it.
Duggal said, "Many doctors do not follow the code of ethics prescribed by the Medical Council of India. The government should strictly implement the Clinical Establishment Act 2010, which calls for the appointment of a regulatory authority to curb unethical practices which increase the cost of treatment tremendously." Consultation fees, cost of treatment, including diagnostic tests, should be standardised, added Duggal.
Health activist and diabetic foot surgeon Dr Arun Bal said it is often difficult to prove that a particular doctor is resorting to this malpractice. The other problem is that there is no agency to take action against diagnostic centres, which promote the 'cut culture'. We need to set up a mechanism to rein in these labs."
However, some diagnostic centres said that they did not believe in the kickback system. Dr Sushil Shah, founder-chairman of Metropolis Health Services, which has several diagnostic centres and laboratories across the country, said, "Some doctors do demand commission for referring patients to us, but we discourage them. Though they threaten to refer the patients to other centres, we are least bothered."
The crusader Recently,
Dr HS Bawaskar, a Mahad-based physician, exposed a Pune-based private diagnostic laboratory, which gave commissions to doctors for referring patients. Dr Bawaskar had referred a patient to this laboratory and forgotten all about it. He was shocked when he received a cheque for Rs1,200 from the test centre. When he inquired, the laboratory officials told him with a straight face that it was his "professional fees". The doctor then complained to the Maharashtra Medical Council which is currently hearing the case. He followed up the exposé with a well-researched article in the prestigious medical magazine, Lancet, which outlined the extent of the cut system in India.