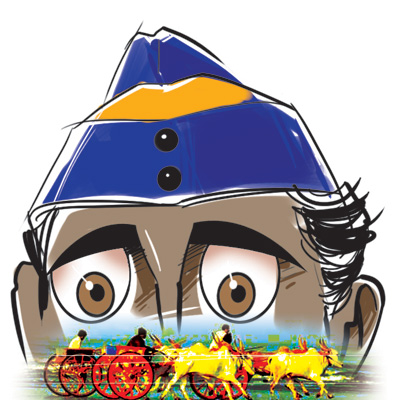 When constable Suresh Patil remained absent from work for a considerable period without informing anyone, his concerned seniors launched a search for him. Little did they know they would trace Patil to a bullock-cart race venue.
While Patil's love for some adrenalin rush didn't go down well with the Mumbai police, the department concluded that he was spinning a cock and bull story on the pretext of ill-health. The misconduct has cost him increments for two years.
Patil, now with Deonar police station, had gone on sanctioned leave from June 6 to June 9 last year when he was attached to the Local Arms Unit of city police at Worli. Sources said he did not report to work on June 10.
The constable's absentism continued even during the hectic Ganpati season, leading to his suspension on September 18. "He did not resume work even after several reminders. He was neither available at his personal residence in Navi Mumbai nor at his official residence in Worli," said an officer from the Mumbai police headquarters.
Sources said Patil, who hails from Kolhapur, never informed the department that he had changed his address. On October 12, Patil's suspension was revoked and a constable was trying to trace him to give him the order, they said.
"When the constable recently visited Kolhapur to give order to Patil, he learnt that Patil was in a nearby village and was watching a bullock cart race. The department has penalised Patil by stopping his increments for next two years," said the officer.
Sources said Patil claimed that he was unwell and therefore could not resume duty, but he never furnished any medical certificates regarding his ailment.