Celebration of Lord Ganesha's birth has turned into a gala affair with time.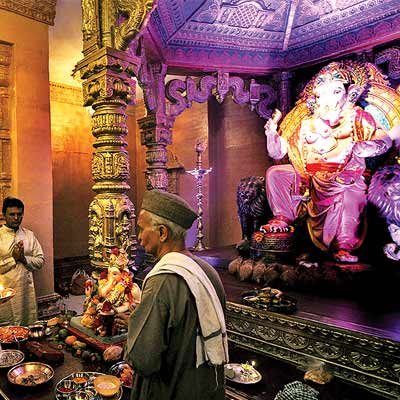 Don't be surprised if you see a mandap by the roadside where Ganpati puja goes on for days. Maghi Ganpati, which was earlier celebrated as a one-day festival, has grown with time and, in some places, become akin to the Ganeshotsav (Chaturdashi) held in September.
While Maghi Ganpati is celebrated for the birth of Ganpati, Chaturdashi is for his rebirth.
Prominent mandals that get taller Ganpatis during Chaturdashi, in particular, celebrate Maghi Ganpati by getting a smaller idol for lesser number of days. These mandals have bhajans and kirtans, aarti and prasad offered to devotees on all days and social service-related programmes.
Charkop resident Suresh Patnaik said, "At our place, we celebrate Maghi Ganpati as an eight-day festival. Unlike during Chaturdashi, when the Ganesha idol is over 15 feet, during Maghi Ganpati, it's around 10 feet."
Patnaik, a government servant, and his family make it a point to visit the Maghi Sarvajanik Ganeshotsav Mandal in sector 4, Charkhop. "My son goes for aarti in the morning and I go during the day sometime," he added.
A large number of people, who don't go to mandaps, celebrate in temples in the vicinity. "Aartis are conducted in a big way at the temples," said MM Prabhakaran, a resident of Ghansoli.