To celebrate 53rd Dai, community elevates the number to divine status.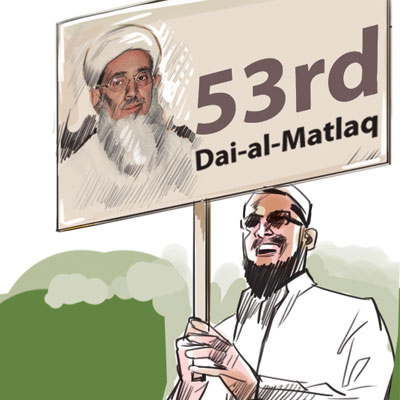 Wherever possible, a Thane resident ensured that his belongings and assets ended with the number 52. His mobile number, two-wheeler and four-wheeler plates had the same number. He even stays in flat No 502.
That was till recently. Now, the member of the Dawoodi Bohra community plans to have '53' in all his new acquisitions. He is contemplating changing his phone number and intends to buy cars and two-wheelers with 53 as the last two digits on their number plates.
Fifty-three is now considered a lucky and auspicious number by the Dawoodi Bohra community. This is in response to Syedna Mufaddal Saifuddin becoming the 53rd Dai-al-Matlaq of the community following the demise of the 52nd Dai, Syedna Mohammed Burhanuddin, in January.
"We consider it an auspicious number because we are led by the 53rd Dai," said a member of the community on condition of anonymity. To highlight the significance of the number, 53,000 coconuts were offered at the mausoleum of Syedna Burhanuddin at the end of the mourning period on February 26.
The Dawoodi Bohras are making sure '53' is promoted in every possible way. For instance, donations are being offered in the figure of 53 and the community plans to send 53 people for Haj pilgrimage this year.
Some others are looking at having phone numbers ending with 53 and vehicles with the same number.
The community leaders, too, are highlighting 53 as the new lucky number. "Yes, of course, it is," a practising Dawoodi Bohra told dna. Some members, however, do not openly accept this, but the obsession with 53 is hard to ignore. "The important thing is our unconditional love towards our moula. Anything related to our moula is lucky and we take it as barakaat (blessing), including the number," said another Dawoodi Bohra from Mazgaon.
Recently, on the eve of the late Syedna's birth anniversary, a procession was carried out to commemorate his life. One-hundred-and-three groups participated in the procession. Each group comprised 52 members from the community with another person (the 53rd) being the flag bearer. The number 52 signified Syedna Mohammed Burhanuddin's incumbency as the 52nd Dai-al-Matlaq. The number 53 represented the incumbency of Syedna Mufaddal Saifuddin as the 53rd Dai al-Matlaq.
Auspicious
Members of the Dawoodi Bohra community are ensuring they have the number 53 in their acquisitions. For instance, they are changing mobile numbers or planning to buy cars or two-wheelers which have the two digits
To highlight the significance of the number, 53,000 coconuts were offered at the mausoleum of Syedna Burhanuddin. Donations are being offered in the figure of 53 and the community also plans to send 53 people for Haj pilgrimage this year