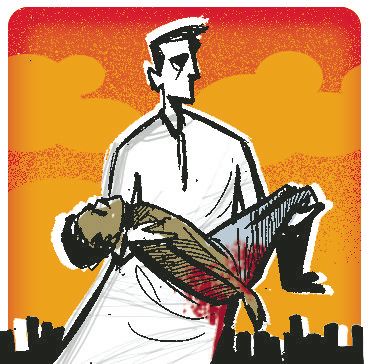 Thirty-four-year old biker died after a head on collision with a police jeep Eastern Freeway near Sewri, on Wednesday night. According to the police, the biker was traveling in the wrong direction. Interestingly, two-wheelers are not allowed on Eastern Freeway.
The biker has been identified as Ganesh Hingole, a resident of Mankhurd. Late night on Wednesday, police jeep attached with the Agripada police station was on its way back after dropping the senior police inspector of Agripada police station, to his residence. "The police jeep was returning after
dropping the senior inspector of Agripada, to his residence. As the jeep neared the Ornage Gate, Hingole who was riding a bike came in front of the jeep from the opposite direction. Constable Jalinder Kamble who was on the wheels, tried to avert the accident but at the same time even Hingole turned his bike and they had a head on collision," said Anil Sardal, senior police inspector, Sewree police station.
The impact of the incident was so hard that the bike was totally damaged and Hingole sustained head injuries and succumbed to death.
Police have registered a case against Hingole, as he was riding two wheeler on the Eastern Freeway, where two-wheelers are banned. Hingole has been booked under Indian Penal Code (IPC) sections 304A (causing death by negligence), 279 (rash driving or riding on a public way) and relevant sections of the Motor Vehicle Act.