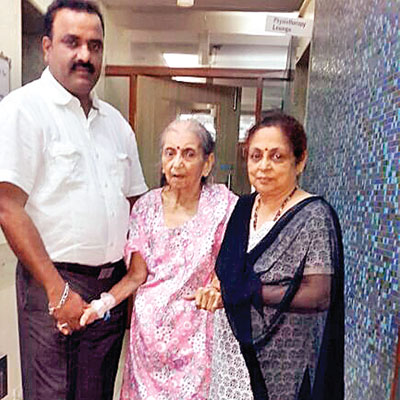 At 92, a Goregaon resident became one of the oldest women to undergo a partial hip replacement surgery. The woman had had a fall and fractured her hip. She got operated in a hospital in Goregaon. The patient, who is still recuperating, can now walk on her own with the help of a walker.
Dr Sunil Chavan, orthopaedic surgeon at Goregaon's Shri Sai Clinic, said: "Shanta Rao was about to go to sleep when she fell and fractured her hip on May 16. For four days, the family didn't know what to do... she was bedridden."
Rao was brought to the clinic on May 21. "Detailed investigation showed she was lucky the fracture didn't require total hip replacement, it just needed fixing. We decided to have a minimally-invasive procedure for the same," Chavan said.
He added that given the age, many don't go for surgery and are left bedridden. "We operated on her on May 23 under spinal anaesthesia. There was no blood loss and she got only seven to eight stitches. She is already back home and can walk on her own with a walker."