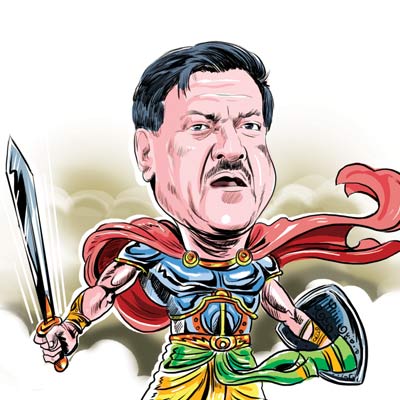 The 2014 Lok Sabha election is a do-or-die situation for chief minister Prithiviraj Chavan, 68. It is also a dress rehearsal for the state assembly polls scheduled in October. If Congress gets routed in the parliamentary election, it will have an adverse impact on the assembly election too.
A political observer said, "Chavan has to prove his mettle in the LS polls. If he fails to do so, it will severely impact his political career permanently in the state as well as the Centre."
Painfully aware of this fact, Chavan is going in an overdrive to ensure the victory of a majority of the 27 candidates fielded by Congress. The remaining 21 seats are being contested by Congress ally NCP.
Chavan's problem, however, is that the Congress organisation is not adequately equipped to handle the polls. This was clear at a meeting, which dna attended incognito, convened by city Congress president Prof Janardhan Chandurkar at the YB Chavan auditorium in South Mumbai recently. Against an expected 600 "active" party workers, only 200 attended the meeting addressed by Chavan, MPCC president Manikrao Thakre and AICC general secretary in-charge of Maharashtra Mohan Prakash. Needless to say, it was a pathetic show.
Chavan asked his party workers to inform the voters about the "achievements" of his three-year-old government. He particularly mentioned his government's decision to regularise hutments built up to 2000.
"I admit these decisions were taken at the 11th hour... But the important thing is we did take a decision on this crucial issue concerning millions of slum dwellers. The decision took some time because all the pros and cons had to be studied. Vested interests were spreading the rumour that the state government had not done anything. We have to counter this false propaganda and tell people the truth. We have to expose Narendra Modi and his fake development model. I have already challenged Modi to a public debate on the so-called Gujarat model of development," Chavan said.
He warned the gathering that if something went wrong in the upcoming election, not only his political future but that of all party MLAs as well as Congress workers was at stake.
The scheduled public rally of Congress president Sonia Gandhi in Bandra-Kurla Complex on April 20 is another big challenge for Chavan. As the code of conduct for the polls is in force, there are several restrictions on the way the crowd is mobilsed. For example, in the past, the ruling Congress used to mobilise hundreds of state transport buses to ferry people from the villages to Mumbai. Now, that can't be done.
"We should not put pressure on our candidates to bring people to the rally. They should be left free to continue their campaign. We have deliberately chosen the date of the rally close to the polling day in Mumbai (April 24), so that it will have an impact on the people just before they go to polls. Also, the media is certain to compare Soniaji's rally with that of Modi's at the same venue. We have to work hard to make our rally a mega success and a record-breaker. We will bear whatever expenses it entails. We have to plan meticulously and work out all details in advance," Chavan told the workers.
He also told them to take their counterparts in NCP into confidence during the campaign. "NCP may be contesting only one seat in Mumbai, but it has a presence across the city. The conversion of these small number of voters will help add to the margin of our candidates. Because the winning margin of candidates will be very thin this time, every vote counts. I will call on NCP chief Sharad Pawar and urge him to jointly address public meetings with us," Chavan added.
Sources in Congress admit that Chavan is waging a lone battle at the moment. "He doesn't have a cordial relationship with Thakre, who hasn't missed any opportunity to needle Chavan. Thakre himself is in the race for chief ministership. Chavan has managed to retain his 'Mr Clean' image, but, in the absence of a mass base, he is not able to benefit from this image politically. He has no choice but to depend on Thakre," a senior MPCC office-bearer told dna.
Congress MLAs and activists, too, aren't happy with Chavan. "In the past, whenever we took up any public issue with him, he never evinced any interest. Also, it was difficult to get his appointment. The workers' morale is very low," a Congress leader from South Mumbai admitted.
Apparently, to revive the workers' morale, the Congress leadership has given a ticket to ex-chief minister Ashok Chavan, 55, despite the Adarsh taint on him. Ashok Chavan is being rehabilitated because he is a mass leader on the lines of the late Vilasrao Deshmukh and a resourceful person who can raise funds for the party, which is something it needs now since Prithviraj Chavan has alienated the builders' lobby and other interest groups and, hence, hardly anyone is willing to contribute to Congress's coffer.