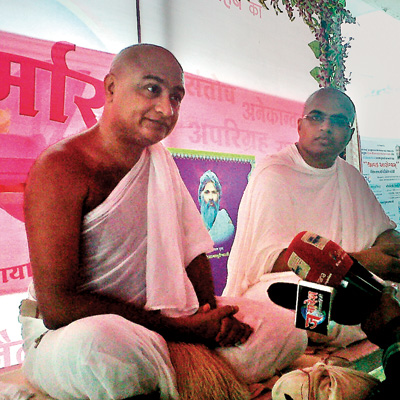 The Jain community, under the leadership of a Jain sadhu, has sought around 20 seats for the community in the upcoming assembly elections. Naypadmasagar Maharaj Saheb, a Jain sadhu seeking political space for the community, will be approaching all political parties for the same.
The demand was made at a press conference-cum-community gathering held in Kemps Corner. Jains, who have been lately declared as a minority, have three member of parliament as of now. Many view this as a misrepresentation of the community.
"We pay maximum taxes, do maximum charity and hence we should also have more representation. We will ask parties to give tickets to Jains. Also, there are problems in societies like calamities and violence because of pashu hatya (killing of animals). There are rapes happening due to porn that is not banned. Meat export should be stopped and Jains need to come to politics," said Naypadmasagarji Maharaj. He added, that with more Jains in the political spectrum, the philosophy and what Jains stand for can be implemented.
As per the community, the strength of the community in city is around 25 lakhs. In state, they state that the community is one crore strong. "The demand is made as per that. We will be doing a survey and tickets will be sought for them based on that," said Girish Shah, who is working on constituencies across the state that have a Jain or can influence results.
But what if a non-Jain is better equipped to solve the problems of the community? And instead of influencing, encouraging community to participate in politics? "We will see the character of the Jain. Jains grow up with good values in life. But if there is someone (non-Jain) who is exceptionally good, we will consider that he win the elections," Naypadmasagarji Maharaj. The meet had Jains affiliated to different political platforms attend it.
"The minority status among the Jains has made them conscious about their identity. Until now Jains were not assertive about their political space but they want to be now. There was a time when there would be many Jain MPs. That is not the case now," said Dhanpal Solanki, a lawyer and member of the community.