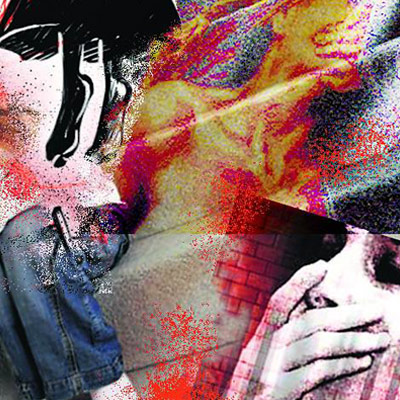 At 2am on Monday morning, a family from Pune's Kharadi area had a horrific experience while returning from Mumbai via the expressway. Mother-daughter were looted, beaten by metal road and dragged by hair by highway robbers while husband had gone to fetch a bottle of water. The family - husband Amit Mali (41yrs), wife Resha (34yrs) and 12-year-old daughter Vedika - were looted of cash, jewellery, sunglasses and international currency total worth Rs 1.25lakh. Besides the girl recieved stitches to her finger and palm while mother has a forehead injury after being hit by a metal rod.
Mali's were coming back from a week long vacation from Thialand, they reached Mumbai International airport at 11:15 pm, following which they collected their car from Resha's brother's house in Mumbai and left for Pune. When they reached near the petrol pump and mall, Amit stopped the car and asked his wife and daughter to lock car door and windows and wait inside till he fetched water and coffee for his daughter.
Amit added, "I locked the car and left the engine on for air-conditioning. Within minutes, a group of four men approached my car and they asked my wife to open the window and hand over our bag to them. My wife refused to open the window and they started hitting the window glass with a metal rod. They even used a big stone to break it open. My wife and daughter were terrified and started screaming for help and honking desperately."
He said that the robbers managed to break the glass of the car and pulled his wife's hair out and started hitting her forehead with the iron rod. "My daughter Vedika who was sitting behind tried to stop the robbers from hitting my wife and shielded her mother with her hands. In the process, she also got hurt."
By that time, Amit heard the continuous honking and ran towards the car and saw that the robbers were running towards the direction of railway tracks which is some distance away. He said that even some employees of the petrol pump rushed towards the car who alerted the police.
"After I returned to the car, I saw my wife and daughter were injured. I started my vehicle so that I can reach a nearby police station but there was a small accident where I had to stop. The highway patrolling squad was present and I asked for an ambulance. We were rushed to a government hospital in Kamshet after the first aid medical treatment, I lodged an First Investigation Report (FIR), with the Kamshet police," he said. The ordeal lasted till 2.30pm till Monday afternoon.
Pune rural superitendent of police, Manoj Kumar Lohiya, said that in the past too, there have been minor robberies but this is the first brazen attack on a family.
"I am personally going to visit the spot tomorrow," he said.
Meanwhile the Mali family said the incident is extremely scary from safety point of view of thousands of families that travel on this route. ''This is very scary and horrible incident that happened to my family. We want media to highlight this issue as safety of families is at stake. This incident has put the safety of expressway and police patrolling in question,'' said Mali.