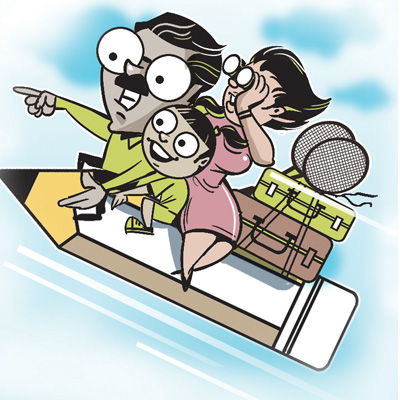 The latest survey by a travel portal has revealed that around 74 per cent of travellers choose destinations or activities based on its potential to enhance their children's knowledge and mental stimulation.
Nikhil Ganju, country manager, TripAdvisor India, said: "According to the findings, planning holiday with children clearly involves keeping an eye out for destinations that help in enhancing children's knowledge, learning and overall intellectual development. It's also interesting to note the significant role children play in planning a trip, with an overwhelming 68% of parents consulting them while deciding on the destination."
The online survey was aimed at understanding the vacation planning preferences of families having children in the 1-18 age group.
The survey has brought out more interesting facts about the roles children play in choosing holiday destinations. According to it, about 48% of the respondents plan to take a trip with children in the next 3 months.
About 30% of those interviewed said their decision on choice of destination/activities is affected by the 'peer pressure' that their child faces in school/college. Though 63% parents listen to their children's suggestions, they take the final decision, and 32% decide where to go or what to do entirely on their own.
The survey also found that last year, 76% of the respondents went on holidays with their kids within India, and 24% abroad, while next year, 65% of the respondents plan to go on holidays with their kids within India, and 35% abroad.