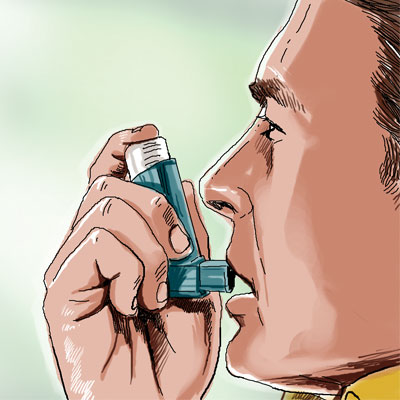 World asthma Day
There is some bad news for parents as paediatricians and chest physicians across the city are alarmed to have discovered that in the last one decade, the asthma cases in children have doubled.
The major contributors to the rise are poor hygiene, more intake of junk food and the rising construction work. With its 7-8% of population suffering from asthma, the rising number of children falling prey to this disease is an alarming concern among doctors.
According to a finding of city doctors associated with the Asthma and Bronchitis Association of India, around 10-12% children are complaining of asthma, allergic bronchitis or other respiratory disorders and the numbers are only increasing.
Dr Jalil Parkar, respiratory consultant, Lilavati Hospital, said, "With the rising population, people hardly maintain good hygiene. Poor hygiene, rising pollution levels, school-college stress levels, poor eating habits, have given a rise to upper respiratory cases in children. Apart from these factors, the affluent lifestyle has also added to the problems. Carpets, air conditioners are also the reasons that lead to upper respiratory diseases."
In Mumbai, there are huge infrastructure. These projects are creating and spreading dust in atmosphere, causing respiratory diseases like asthma, bronchitis, skin diseases and various allergies. The worst hit areas in terms of rising upper respirator cases are Andheri, Kurla. Chembur, Bandra, Khar, Haji Ali, Worli and Byculla.
Doctors claim that a child of a single asthmatic parent has 20% chance of contracting asthma and a person with both asthmatic parents have a 30% chance of contracting the disease.
"Children, who cough, sneeze, have a running nose and catch cold easily should be promptly treated, or else they will contract asthma. The children should also be investigated to further rule out allergy and allergic asthma. All asthma patients are allergic until proved otherwise. While asthma cannot be prevented, one can atleast minimise the frequency of attacks," said Dr Jaising Phadtare, professor of pulmonary disease, Grant Medical College.
Dr Phadtare added that ashtma can be minimised by vaccinating the children against influenza every year. "This vaccine minimises the viral infection, which is a precipitating factor," he said.
Prevention
Cover bedding with "allergy-proof" casings to reduce exposure to dust mites.
Remove carpets and vacuum regularly.
Use only unscented detergents and cleaning materials in the home.
Keep humidity levels low and fix leaks to reduce the growth of organisms such as mold.
Keep the house clean and keep food in containers and out of bedrooms -- this helps reduce the possibility of cockroaches, which can trigger asthma attacks in some people.
If a person is allergic to an animal that cannot be removed from the home, the animal should be kept out of the bedroom. Place filtering material over the heating outlets to trap animal dander.
Eliminate tobacco smoke from the home. This is the single most important thing a family can do to help a child with asthma. Smoking outside the house is not enough. Family members and visitors who smoke outside carry smoke residue inside on their clothes and hair -- this can trigger asthma symptoms.