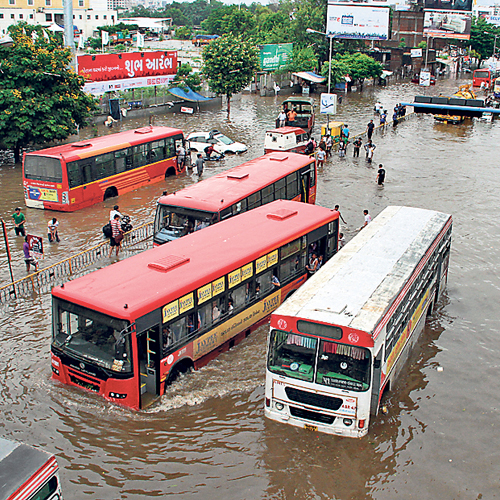 Beware, the BMC has warned strict action in case someone sends false messages/rumours during the monsoon.
In the wake of reports of cell phone applications like WhatsApp being used to circulate false messages/rumours, the corporation has said it will inflict provisions laid down in the Disaster Management Act, 2005, to those who will spread false messages during the monsoon. The Act recommends imprisonment or fine to the perpetrator(s).
The civic body has also appealed to residents to rely on its Facebook page (Dmp Ccrs), and follow it on Twitter (@ccrsdmp) or simply download its Mumbai Monsoon mobile application to stay updated on rainfall and tide level warnings, which will be made available by BMC with its tie-up with the Indian Meteorological Department (IMD).
On July 23 last year, panic was spread amongst scores of Mumbaikars when they received an SMS warning of heavy rainfall for a period of three hours during a 48-hour span. 'Hence, don't send children to schools and avoid long journeys during the period,' the message read. The municipal authorities had to later clarify that neither the BMC nor the Mumbai police had sent the message.
The civic body's fresh warning comes in the wake of an increasing number of people who have started using WhatsApp since last year.
"Keeping in mind the possibility of calamities during the monsoon in a city like Mumbai, which witnesses heavy rainfall annually, we want to warn that should anyone be found playing mischief using WhatsApp or any other application, we will take stern action," said a senior civic official, wishing anonymity.
According to the official, the BMC will be taking up the matter before the cyber cell of city police. "We are taking up the matter before the police. There won't be any deterrence amongst public if we don't take the matter," he concluded.
What does the Section 54 of the Act say?
Whoever makes or circulates a false warning as to disaster or its severity or magnitude, leading to panic, shall, on conviction, be punishable with imprisonment which may extend to one year or with fine.