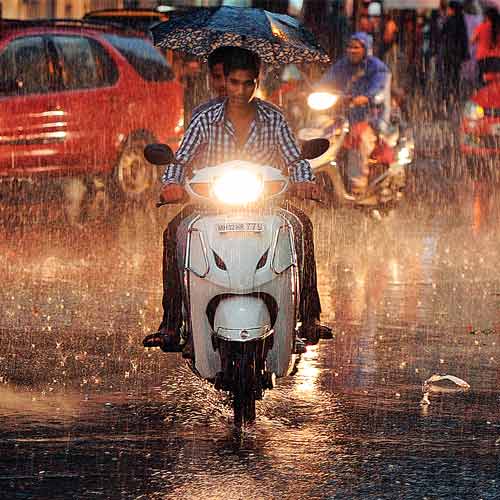 Giving some sigh of relief to Mumbaikars, the much awaited monsoon has arrived and started building up from Tuesday morning. The first heavy rain showers of the monsoon inconvenienced thousands of commuters as train services got disrupted on Central Railway.
Due to heavy rains and waterlogging at Kurla, Ghatkopar, Vikhroli, Bhandup on main line and Govandi, Chunabhatti on harbour line, CR suburban services on Slow line and Harbour line were disrupted.

Slow locals were running 15-30 minutes and harbour line locals were running 30-40 minutes behind schedule during this period. 40 services were on harbour line and 30 services on main line were cancelled.

Shuttle services were running between Mankhurd and Panvel during this period. Services on fast line were running 5 to 15 minutes behind schedule. Continuous announcements were made about the disruption and harbour line passengers were permitted to travel via main line.
Officials said water logging at Vidyavihar and Bhandup caused trains to slow down leading to bunching of trains one after the other. Trains on CR were running 20 to 25 minutes behind schedule. Meanwhile services on harbour line have been suspended due to water logging at Kurla. A CR official said passengers of harbour line are permitted to travel via main line. Trains on harbour line will restart after the water levels go down. Heavy showers are expected in the city throughout the day.
Rain has shown good signs in the region of Thane, Kalyan, Raigad. In the last three hours Mumbai has recorded 105 mm rains. Water has been logged in the low lying areas of Bhandup, Ghatkopar and Mulund, Chembur and Tilaknagar.
A signal failure has been reported at Chunabhatti, while Harbour railway services has been disturbed.
Rainfall recorded
Mumbai : 105 mm
Kurla: 22.8 mm
Santacruz: 11.8 mm
Mahabaleshwar: 29 mm
The dates of major high tides will be as under:
Date Time (hrs) Height (Meters)
13/07/14 12.58 4.83
14/07/14 13.44 4.95
15/07/14 14.28 4.95
11/08/14 12.35 4.87
12/08/14 13.29 4.97
13/08/14 14.01 4.92
14/08/14 14.44 4.73
09/09/14 12.10 4.80