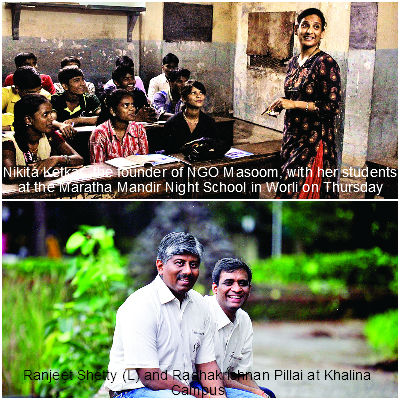 Quit civil service to light up night schools
Nikita Ketkar didn't feel it necessary to think twice before quitting her civil services job. Just six years into her job, the 1999 batch officer felt a calling to do something different. "I felt my passion lies somewhere else. So I resigned to be able to explore myself," says Nikita.
Initially, she had only a vague idea about the kind of work she wanted to do. She worked at it, planning the structure and collecting the resources, till after a couple of years she set up "Masoom", the NGO that mentors 30 aided night schools with about 2,500 young people on its rolls.
The organization offers a month-long bridge course for class 9-10 students returning to school after some years, providing them coaching in English and Math. It also helps teachers to upgrade their skills and inspires all the stakeholders to work towards 100 per cent results at the board exams. All this is free of cost.
While the overall success rate this year was 70%, Maratha Mandir Night School, Worli, and Sahakar Night School, Currey Road, achieved 100%.
"This is a decent result considering that the students sit down to study after a full day's hard work and appear for the exam after a gap of many years without getting leave from their employers to help them in preparation," says Nikita with a sense of pride.
Masoom has graded its schools from A to D – the first such initiative – that has set off a healthy competition. Today, just four schools have got the top A grade.
School management committees have been established in nearly all the schools comprising of trainers, parents, teachers and principals, so they take ownership of the project.
A computer training centre, set up in collaboration with NIIT, caters to the night schools and about 30 students are also being trained in retail management at the National Skill Development Council.
"But a lot more requires to be done to uplift these students," Nikita says. And the response she has received makes her hopeful about the road ahead.
"Citizens and corporates are more generous today. The organization is getting sufficient funds, unlike in the initial years when we had to struggle," she explains.
She is even receiving calls from employers who want to admit their house-helps to night school and there have been enquiries from Gujarat and Assam on whether Masoom has plans to go there. As of now, the organization aims to adopt 20 more schools by next year.
Nikita hopes that the government would use the grading system across the education system. "I wish the state government will adopt a similar grading system for all schools," she says.
Honchos get into the clean-up mode
In early 2010, at the height of the Commonwealth Games and 2G scams, two Mumbai businessmen decided to join hands and work out a programme to train honest and efficient leaders.
Ranjit Shetty, 44, a BE and MBA, and Radhakrishnan Pillai, 39, who operated a spiritual tourism company, gave up their lucrative corporate careers and set about studying Kautilya's shastra. The outcome of the study by these two Chinmaya Mission associates is the Chanakya Institute of Political Leadership.
Today, the institute, in partnership with the Mumbai University, offers a one-year residential course to train motivated individuals into honest political leaders, and its absolutely free of cost.
"The candidates must be between 21 and 30 years, have a professional degree in either engineering, medicine or management, and be nominated by a political or social organization. Besides, they must have the right stars in the horoscope. The final selection is done on the basis of written and oral tests," says Shetty. He can recite 6,000 sutras of Kautilya by heart.
But why look at the horoscope? "We believe in karma, but horoscope gives a little idea about the person's destiny," Pillai explains. He is now a celebrated writer who is even invited to lecture on the shastra to corporates, the police and defence personnel.
The curriculum at their institute amalgamates economics, law and security, social work, Indian philosophy and life skills for six months and candidates have to undertake field work in the rest of the year engaging in social projects under public private partnership.
"This will help them gain practical experience in running projects without bribing officials," says Shetty. The students of the institute currently handle five green-waste management projects in Mumbai and one in Bangalore.
Among the 45 alumni of Chanakya institute are Bhanu Chandar Pamidi, who Telugu Desam district president in Andhra Pradesh, Tadar Chachung, now a sarpanch in Assam, Urvi Patel, who is assisting member of Parliament Gopal Shetty, and Subhransu Nanda, who has launched social projects in Odisha.