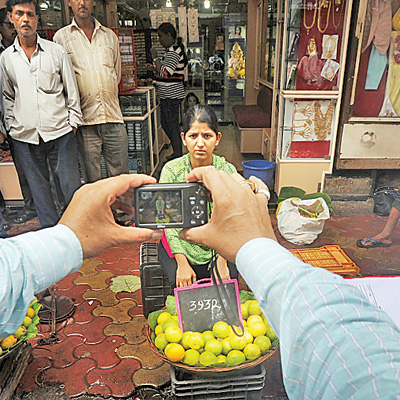 The BMC hawker survey is drawing flak with the Maharashtra Navnirman Sena (MNS) claiming the civic body had not been following the norms in the Act.
The Supreme Court had, on Sept 9, 2013 ruled that the national hawkers' policy 2009 and Street Vendors' (protection of livelihood and regulation of street vending) Act 2014 be implemented. Subsequently, on July 18 BMC began a survey to register vendors. The survey of daily vendors was over by July 24 and that of weekly market hawkers got over on Monday (July 28).
The MNS on Wednesday alleged that the civic body had made several goof ups in implementing the Street Vendors' Act as it had not taken into consideration the provision of reservation in the law. According to section 7 of the Act, governing agencies have to give preference to people of schedule castes, scheduled tribes, other backward classes, women, people with disabilities, minorities or such other categories as mentioned in the scheme.
"There is serious lapse on part of the BMC in carrying out the survey. Its officers are doing it without even studying the Act. BMC has not referred to the reservation part of the Act. Why has this not been done?
Why was no notification issued prior to commissioning the survey?" asked Deshpande at the BMC general body meeting, while speaking in connection with a statement made by house leader Trushna Vishwasrao on the on-going hawkers' issue.
Deshpande threatened the municipal administration of riots if it did not change the way its officers were handling the issue.
Earlier, toeing the sons-of-the-soil line, Vishwasrao said Shiv Sena would not tolerate injustice to locals in distribution of hawking licences. "Nobody will be able to save this city if the corporation allots hawking licences to outsiders without checking his/her identity. If that happens, the city will attract more people who will come here to claim vending licences. If injustice is meted out to sons-of-the-soil, we will have to take to the streets," Vishwasrao said.
The meeting was adjourned following chaos over a statement by Samajwadi Party (SP) corporator Rais Shaikh. Shaikh, who spoke after Deshpande, sought to know the definition of sons-of-the-soil.
"According to the Constitution, anybody can migrate to anywhere in India. According to me, whoever considers this city as his city is a Mumbaikar. People have come here from Uttar Pradesh and Bihar. You (pointing to BJP corporator Meena Joshi) have come from Gujarat," Shaikh said.
The statement, however, evoked sharp reaction from BJP corporators, who shouted slogans against Shaikh. Mayor Sunil Prabhu then insisted that Shaikh withdraw his statement (from the record). He however, refused, saying, "If you can refer to me as 'one who has come from Dubai', what is the harm if I say 'you have come from Gujarat'?"
The BJP corporator too refused to budge, and Prabhu finally adjourned the meeting.