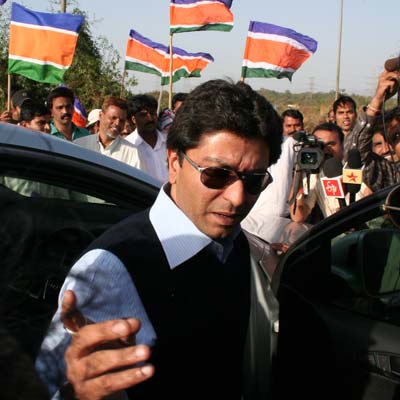 The state-wide agitation by the Raj Thackeray- led MNS to protest against lack of transparency in toll collection kickstarted in which activists in large numbers arrived at toll nakas on highways across the state beginning 9am.
Thackeray said he would lead the non-violent day-long agitation at the Vashi toll plaza.
Read more: Raj Thackeray's toll agitation a gimmick before Lok Sabha polls
Over 1.80 lakh policemen will be deployed across the state; contingents of the Rapid Action Force and State Reserve Police Force have also been requisitioned. More than 170 MNS activists were detained in Navi Mumbai on Tuesday.
The government has deployed more than 60% of its strength to counter the agitation. Police are ready with tear gas, rapid action force, water guns, and other ammunitions to take on those who dare damage public property. District police have been instructed to initiate strict action against those who resort to demonstrations.
Read: 'Symbolic' rasta roko will be peaceful: Raj Thackeray
MNS chief Raj Thackeray on Tuesday rejected the chief minister's last-minute offer to hold talks on the road toll issue.
For Mumbaikars, a day of major transport inconvenience and logjams prevails.
What will not work:
* Garbage won't be lifted on Wednesday as more than 2,000 conservancy trucks support the agitation.
* Auto and taxi services will be partly hit in the morning as more than 35,000 drivers have pledged their support.
* BEST will restrict operations of its AC buses in the morning. It will run non-AC buses only till the toll nakas at Dahisar, Mulund and Mankhurd.
* None of the colleges will remain shut.
* Only a handful of schools have announced a holiday.
Latest updates:
* Raj Thackeray steps out of the police station in Chembur. He will be addressing his workers shortly. He is also slated to meet Maharashtra chief minister Prithviraj Chavan tomorrow at 9am. " I appeal to my workers to maintain peace and calm," he said outside the police station.
@kushal2091 Reports from Dadar of Bandh. No updates from Sion, but route is usually affected.

— Traffline Mumbai (@TrafflineMUM) February 12, 2014
@TrafflineMUM sand truck emptied on road near mankhurd flyover. Exact location has to be confirmedd..

— Rama (@VenRamKri) February 12, 2014
Thane Update --> RT @AshwiinJain: Thane being force shut. Hiranandani Meadows shut as confirmed by @reenaljain #thane

— Traffline Mumbai (@TrafflineMUM) February 12, 2014
* 25 to 30 MNS workers have managed to block the traffic at Vashi toll plaza. The Mumbai police is struggling to handle the agitated workers.
*A similar protest near 'Amritanjan' bridge along the highway disrupted vehicular traffic temporarily, police said, adding that a heavy bandobast has been put at various points in the city leading to highways where the toll collection booths are set up.
* In Dahisar, a suburb of Mumbai, a group of hundred people led by MNS MLA Pravin Darekar began protesting near Dahisar toll plaza. But nobody was detained from the spot, police said.
* In Pune, about 25 MNS activists were rounded up by police when they tried to disrupt traffic at Chandani chowk along Pune-Mumbai highway in response to the 'rasta-roko'.
#RajThackeray arrested along with MLA's & Members. Members lying on roads & not letting the police vehicles to move forward. @TrafflineMUM

— Akshay Redij (@Akzey) February 12, 2014
@TrafflineMUM trucks, bus, tanker tyres deflated by MNS goons at Dahisar WEH s/b to block road. Cleared now pic.twitter.com/t9Hkhq2ssA

— Kanchan Kumar (@kanchankumar) February 12, 2014
* According to TV reports, Raj Thackeray has now been moved into a police van, near Somaiya Ground at Sion. Traffic majorly affected at Sion.
* Raj Thackeray's convoy has been stopped at Chembur. Mumbai police has arrested him.
* Raj Thackeray has left his residence to Vashi toll naka.
* MNS activists, including representatives of its women's wings, stormed roads and highways on the outskirts of Mumbai, Thane, Pune, Raigad, Nashik and other areas, attempting to halt the morning peak hour traffic.
* Reports are coming in that some people burnt vehicle tyres in an effort to stop traffic near Pune and Nashik. In some places, vehicle tyres were deflated to stop vehicular movement, leading to traffic snarls.
* Our reporter Pranab Jyoti Bhuyan just confirmed that 50 people have been detained from Vashi toll naka out of which 20 are women. Huge MNS crowd has gathered in support of the 'rasta roko' initiative. Over 500 policemen will be deployed for security duty and a platoon of SRPF will be pressed into service in Mumbai. All the weekly holidays of police personnel have been cancelled.
Dahisar Toll Naka • Trucks are parked to stop vehicles movement, but private cars are allowed through last lane. #Mumbai

— Traffline Mumbai (@TrafflineMUM) February 12, 2014
#Mumbai police alerts citizens on the traffic situation during MNS's rasta roko. Cc @TrafflineMUM, @WeAreMumbai pic.twitter.com/jSWmRzEe8h

— Sneha Mahale (@randomcards) February 12, 2014
Traffline Alert: Rasta Roko movement started at Dahisar, Mulund and Vashi Toll Naka. Alternatively use trains. @TrafflineMUM

— vinay (@mevinayshah) February 12, 2014
Cops geared up at Vashi highway to tackle #RastaRoko by MNS workers @TrafflineMUM pic.twitter.com/KZQRlOjM8p

— Vishal Vincent (@weshallvincent) February 12, 2014
@TrafflineMUM flyover at SGNP, brvli closed, traffic building up under d flyover. Heavy police checks is reason for traffic.

— anand dixit (@anand_270) February 12, 2014
Airoli toll naka smooth , no issues at 10.10 am @TrafflineMUM @WeAreMumbai

— Ms.Arcturus (@swathisridharan) February 12, 2014
More photos from MNS Dharna at Mankhurd. @TrafflineMUM pic.twitter.com/jxs9ZEIRnP

— Harish Krishnan (@Harishk) February 12, 2014