Raj Thackeray sticks to his attack-no-cop stand, seeks action against all MLAs involved in assault.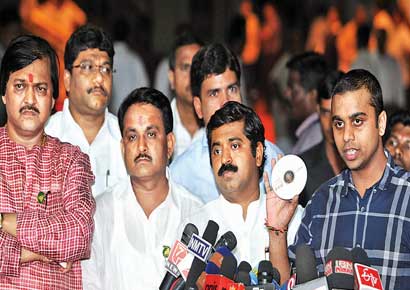 "The police must never be attacked. If the morale of the police is shattered, where will the common man go?'
— Maharashtra Navnirman Sena chief Raj Thackeray in his rally at Azad Maidan on August 21 to protest the August 11 riots in which policemen were attacked by protesters
Almost seven months after he said that his party would not tolerate anybody laying a finger on Maharashtra's policemen, Thackeray's own partyman Ram Kadam is in the news for assaulting police sub-inspector Sachin Suryavanshi along with other MLAs.
Kadam justified his action, saying Suryavanshi had made gestures at Nalasopara MLA Kshitij Thakur from the gallery during Tuesday's proceedings. He claimed that this agitated them and around 50 MLAs rushed to the first floor and confronted the policeman. Kadam added that Suryavanshi pushed him first, leading to the altercation. He said Suryavanshi had spoken to Thakur in an objectionable manner in legislative council deputy chairperson Vasant Davkhare's office.
Kadam, 43, and three other MNS legislators had recently been suspended for roughing up Samajwadi Party MLA Abu Asim Azmi on the floor of the House for taking oath in Hindi instead of Marathi.
Raj Thackeray on Tuesday sought action against the errant MLAs, including Kadam. "No one should assault the police. Even if my MLA is involved in the incident, the government must take strict action against these legislators," Thackeray told DNA.
"This is wrong. It is inappropriate for elected representatives like us to indulge in such acts," said MNS group leader Bala Nandgaonkar, adding that they would serve a notice to Kadam. He, however, added that Thakur had complained that Suryavanshi had misbehaved with him while he was travelling on the Bandra-Worli Sea Link and also at the police station.
Nandgaonkar questioned how Suryavanshi could come into the legislature and enter the gallery.
Kadam had defeated BJP's Poonam Mahajan-Rao, daughter of senior BJP leader late Pramod Mahajan, from Ghatkopar West constituency.
@dhavalkulkarni