Househelps being hired by candidates for Rs300-500 a day to campaign, attend rallies and padayatras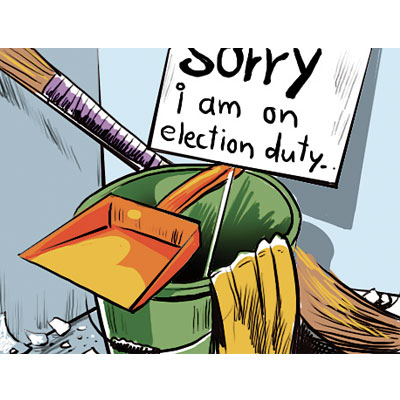 Livid because your maid is on leave? You are just one of the many in the city grappling with the issue. With elections barely 20 days away in Mumbai, most housemaids have been "hired" by political parties as "part-time members" to attend rallies, padayatras and public meetings. Apart from them, daily wage labourers and senior citizens too have been roped in for Rs300-500 a day.
Asha, 35, who works as a housemaid for a family in Andheri, said she has sought leave for six days for "electoral work". "I am getting Rs300 a day which is good enough for a six-hour job of walking — three hours in the morning and three in the evening," said Asha, who otherwise earns Rs3,000 a month. She said 70 maids and slum dwellers from her neighbourhood are busy with political assignments at present.
The demand is higher for those who look presentable. "If good people accompany candidates, they will look like party workers, and not maids or labourers," a party worker explained.
About 50 people on Thursday took part in a procession of Priya Dutt, sitting MP and Congress nominee from North Central Mumbai. Most of them were maids and daily wage labourers whose job was to hold party flags and distribute pamphlets while rallying alongside Dutt in the small gullies of Sahar village. While Asha said she will remain loyal to Dutt during the election season, others have also agreed to join rival Poonam Mahajan's campaign. In Thane, several maids from Bhim Nagar are on leave to assist NCP's Anand Paranjpe in his poll campaign.
The practice of hiring maids for election rallies is not uncommon. "However, it is more obvious this time since all MPs in Mumbai and Thane are from the Congress and NCP. They are facing a strong anti-incumbency wave and their supporter base has eroded drastically," the party worker said.
It is a win-win situation for the candidates as well as maids. "The party cadre give us a tough time as they are not committed enough and don't want to leave their business or work for days. On the other hand, these seasonal workers are ready to do anything for us," a candidate told dna.
A person who is involved in selecting such workers for candidates said the slums are the largest vote bank.
"Housemaids come in handy as they are known in the area. They are ready to bunk work for some extra money," he said.
While the move is beneficial to maids, housewives and working women are left tearing their hair. "For the last three days, my maid is unwell. As a result, I am cleaning utensils, washing clothes, mopping the floor and doing other household chores. During every election, my maid falls sick, but we cannot do anything about it except curse the politicians for such cheap tactics," JB Nagar,Andheri resident Bhavna Dave told dna.
Another homemaker has been ordering food from outside for the last three days. "Maids are the backbone for lakhs of families. Their absence hurts, even if it is for a day. I am doing all the household chores, but I get so tired by evening that I cannot cook," she lamented.