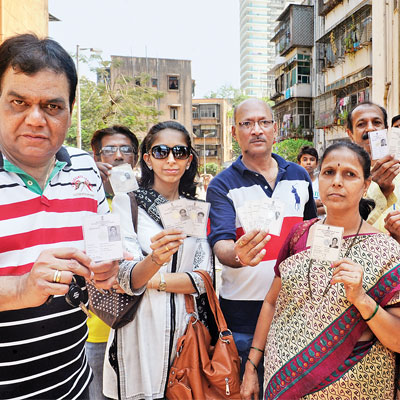 The Lok Sabha elections in Mumbai were marred by deletion of names from the voters' list. Names of at least 2 lakh people were missing. Similar things had also happened in Pune.
The Shiv Sena and the BJP held the Election Commission (EC) responsible for the goof-up. In fact, the BJP candidate from Mumbai North-East constituency Kirit Somaiya told dna that he will file an FIR against the poll officials concerned on Friday.
Ramkrishna Mhatre, a Chembur resident, accused the poll commission of "sheer incompetence." "They had all of five years to update the list. But they failed in their job miserably," he added.
Vyomkesh Panchamatia, a BJP activist leading a group of residents whose names were missing from the electoral roll in Mumbai South-Central constituency, said he will file a public interest litigation (PIL) against the commission. The parliamentary seat covers areas like Mahim, Dadar, Dharavi, Sion, Wadala, Chembur and Mankhurd.
"Scores of residents found their names missing from the list. People whose names were there in the electoral rolls for the previous Lok Sabha, assembly and civic polls were all of suddenly missing. So, we protested the same at the assistant returning official's centre at Sahkar Nagar in Wadala, where we met with arrogant staffers who refused to co-operate. So, we are taking up the issue before the HC. We are also going to seek a re-election," Panchamatia said.
Shailendra Salvi, a Shiv Sena functionary from the Wadala assembly seat (number 180), too said they were received scores of complaints about missing names. "There are at least 20,000 names missing from the Wadala seat, which has 222 booths. We have found an average of 100 names missing from each booth. There is a difference between names mentioned in English and Marathi versions of the voters' list.
Can you believe this? Majority of the people whose names were missing are ones who have exercised their franchise during the 2009 Lok Sabha and assembly and 2012 civic polls. How come their names have disappeared? We are taking up the issue with the EC now," Salvi said.
A section of Matunga residents too have sought re-election in Mumbai South-Central constituency. The sulking voters also sent a letter to the district collector in this regard. "It was very disappointing to see my name missing from the list. I could see my mother and wife's name in the list, but not mine which is very disturbing for a voter," Manohar Rao, an advocate, said.
CASE STUDIES
Mumbai-North: In Ambujwadi area of Malvani-Malad (West), an 80-year-old blind person, Shamrao Kisan Lokhande, had to run around to search his name. "We have shifted from this area to Santa Cruz recently and we decided to come and caste our votes, but after coming here we are disappointed over what trouble we took is making no sense," said his wife.
In another incident at Sanskar Vidyalaya in Charkop in Kandivli (West), Ketan Soni was shocked to find that his name was missing from the list. Even his 70-year-old mother's name was not there.
Soni said his 19-year-old son Hardik's name was there, but names of five of his family members were missing from the list. "How is it possible? We have been voting for last 20 years. Our polling booth was also the same. This year EC added my son's name and robbed us of our voting rights," said Soni.
In Borivali (west), hundreds of voters were gathered outside Rajda Municipal School to protest against their names missing from the voter's list. While one Bharat Jain submitted a written complaint about the missing names of about 500 people with their names and signatures, Jigar Seth, a professional said the names of his parents, who are voting for the last three decades, were missing.
Krishna Dalal, a 19-year-old first time voter, was disappointed as her name was missing from the list.
"I missed my entrance test for BMM course in Pune and stayed back to vote, but look what authorities are doing to me. When I demanded aggressively that I will vote as I have my Aadhar Card which bears all the details, the presiding officer said that I was over-reacting out of excitement and similar situation is faced by hundreds of voters standing outside. How insensitive was that," said Dalal.
South Mumbai: Ghazala Molobhoy, a resident of Pedder Road, was furious to find her and her family members' names missing. "We have been living here since our great-grand father's time. He build a building next to the polling booth and today we tax paying citizens do not even find a mention in the voting list," she said.
Sunil Patel, a 59-year-old resident of Cuffe Parade, said, "I have been living in the area and have been voting since 21 years. Every time I would come to the same polling station. Only this time my name was missing."
Mumbai North-Central
Sunil Hansraj, brother of actor Jugal Hansraj who had to return without voting as his name did not appear in the voting list in Bandra, said, "I had gone with mother for voting at 7.45am. My name was not there, so I went again at 9.30am and tried to sort it. But the queue was long and I did not want to create a ruckus. They asked to fill forms, follow it up etc but there was no one to help at the centre. I could not trouble my mother and had to return without voting."
Mumbai North-East:
Pallavi, 20, a resident of Suryanagar in Vikhroli, said she had applied to be registered as a voter two years ago. Aniket Bhosle, 21, couldn't find his name in Bhadup East.
Mumbai North-West: Dhiraj Patel, an Andheri resident, was shocked to find his name missing from the electoral roll. "My wife's name was there in the rolls, but my name was missing. The officials asked me to shuttle between Bhavan's College and DN Nagar Municipal School. I visited Bhavan's College twice, but returned without voting," Patel said.
Lalbaug resident Rajesh Kumar Jain got a shocker on Thursday when he found out that the latest voter identity card does not have his photo. The image present on the electoral rolls as well as on the voter card is of a stranger, this gave him problem while casting his vote as it was a case of discrepancy in voter's identity.