Anti-incumbency, Modi wave, presence of MNS and AAP, will make contests very unpredictable
A massive anti-incumbency, presence of players like the MNS and AAP, a resurgent Shiv Sena and the Modi wave will make it difficult for the Congress-NCP combine to repeat its 2009 performance of winning all the six seats.
Leaders cutting across party lines admit that a combination of anti-Congress-NCP sentiments, internal wranglings within the Shiv Sena and BJP, multi-polar fights caused by the presence of MNS and AAP and urban voters' apathy may lead to unpredictable contests which may see victory being determined by wafer-thin margins.
The Congress-NCP combine hopes that the possibility of the campaign of the saffron alliance peaking too soon, presence of the MNS in three seats and tactical voting by minorities, especially Muslims, will help them sail through.
In 2009, the Congress had managed to win in five out of six seats due to the Raj Thackeray-led MNS eating into the Sena and BJP votes.
In South Mumbai, Milind Deora is caught in a four-cornered fight with Arvind Sawant (Shiv Sena), Bala Nandgaonkar (MNS) and Meera Sanyal (AAP). In addition to the AAP, which may net some Muslim votes due to chief Arvind Kejriwal's pugnacious denouement of the BJP's prime ministerial nominee Narendra Modi, smaller parties like the BSP and the Awami Vikas Party may eat some Muslim and Dalit votes, which have stood by the Congress.
The constituency elected Milind for the second time in 2009 with a margin of over 1.12 lakh votes, in a three-cornered fight with Bala Nandgaonkar (MNS) and Mohan Rawle (Shiv Sena).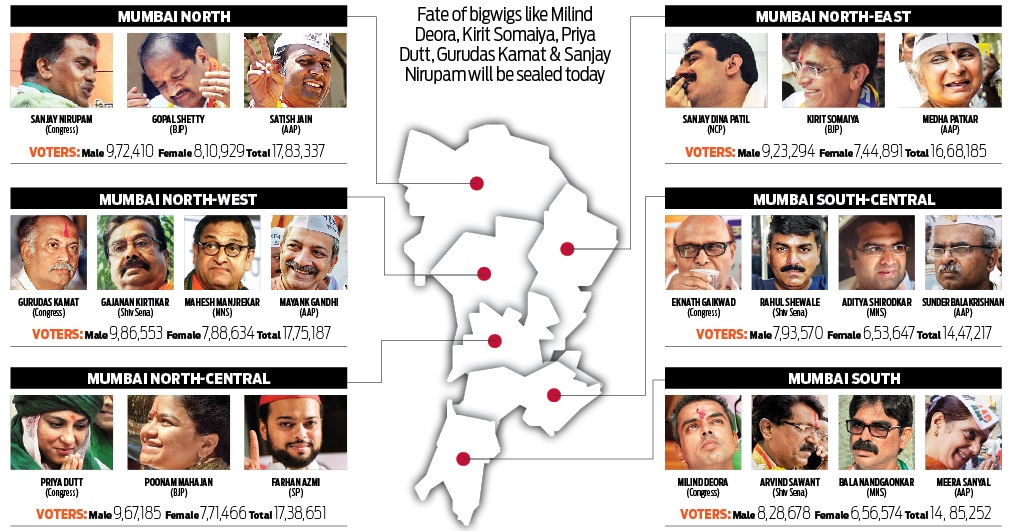 The neighboring Mumbai South-Central constituency is witnessing a tough fight between sitting MP Eknath Gaikwad (Congress), Rahul Shewale (Shiv Sena), Aditya Shirodkar (MNS) and Sunder Balakrishnan (AAP). Gaikwad and Shewale, who are said to be bearing the brunt of opposition from some leaders from within their parties, are both Dalits and are eying the substantial Dalit voters in pockets like Wadala and Dharavi to make the cut. The Sena has pulled up its socks to wrest the seat from the Congress while braving the inroads made by the MNS into its traditional Maharashtrian vote base.
In 2009, Priya Dutt was the only MP from Mumbai, whose margin of victory over her BJP opponent Mahesh Jethmalani was more than the votes polled by the MNS nominee Shilpa Sarpotdar. However, five years on, Priya is locked in a tough, see-saw fight with the BJP's Poonam Mahajan and AAP's Phiroze Palkhiwala.
Anti-incumbency, the resentment in Congress and internal opposition to Priya, the MNS deciding against fielding a candidate, presence of Samajwadi Party MLA Abu Asim Azmi's hotelier son Farhan Azmi and multiple independents, many of whom are Muslims, may muddle the pitch for her in the seat, which has a large number of slums. However, BJP leaders admit that even as she fights with her back to the wall, Priya can count on the support of the minorities who make around a fourth of the constituency's population.
BJP's Kirit Somaiya hopes to be third time lucky after two successive defeats from the Mumbai North East constituency. In 2009, the presence of Shishir Shinde of the MNS had led to Somaiya being administered a shock defeat by the NCP's Sanjay Dina Patil by just 2,993 votes. AAP's Medha Patkar is also a strong contender in the fight which also has players like Avinash Dolas (BRP-BMS), coaching class czar Macchindra Chate (BSP), Tukaram Mane (BMP) and Sayyad Nuruddin Aftab (Rashtriya Ulama Council) who may eat into Muslim and Dalit votes, which played a major role in Patil's 2009 victory.
Though Patil has managed to recover some lost ground, Somaiya's fate will also depend on voting from Maharashtrian dominated areas like Bhandup and Vikhroli, where he trailed in 2009. However, the BJP is banking on the substantial Gujrati, Jain and Marwadi population, which may be swayed by the Modi wave, lack of a MNS nominee, and the presence of Patkar, who may eat into votes from the massive slum pocket of Mankhurd- Shivajinagar which gave Patil his highest lead in 2009, to sail through.
After emerging as a dark horse in 2009 despite his opponents alleging that he was an "outsider" in the constituency, former union minister Gurudas Kamat is facing off again with Shiv Sena leader Gajanan Kirtikar from Mumbai North-West in a contest which also has actor-director Mahesh Manjrekar and the AAP's Mayank Gandhi in the fray.
Flamboyant actress Rakhi Sawant's candidature has injected a dose of glamour. However, the Congress hopes that the presence of a substantial North Indian and Muslim population and lack of the SP's nominee in the fray may help Kamat.
In 2009, Sanjay Nirupam (Congress) emerged as a surprise victor by trouncing BJP veteran and former union minister Ram Naik by just 5,779 votes, largely due to Shirish Parkar of the MNS gobbling up over 1.47 lakh votes. However, the MNS has decided against fielding a candidate here and this, coupled with a substantial presence of Gujarati and Marwadi voters and Shetty's image, which cuts across social sections like Maharashtrian, Gujaratis and South Indians may save the day for the BJP in its former stronghold. The AAP has fielded Satish Jain and candidates like Kamlesh Yadav (SP), Ashok Singh (BSP), Nitin Rajvardhan (BMP) and Divakar Gondane (BRP- BMS) may play spoilers.