Through her work, Meera Devidayal gives a fresh spin to old, rundown mills of South Mumbai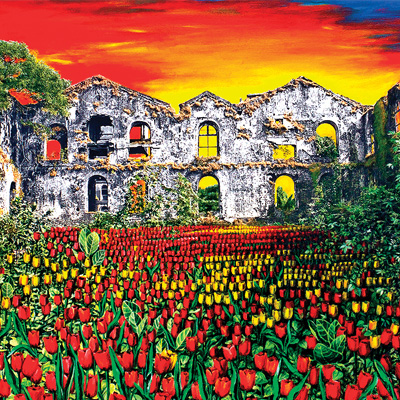 Mills have a charm of their own and through her work, A Terrible Beauty, Altamount Road resident and artist, Meera Devidayal has envisioned these old, rundown structures to reflect the quality of life that pervades the city.
Devidayal says, "I was not looking at any mill in particular. I am simply interested in mills, which now lie in ruins, as urban spaces in Mumbai. It is about connecting and imagining their transformation in the context of changing aspirations, interests, and needs." Talking of her strong connection with Mumbai and how she has drawn inspiration from it, she says, "I have always been interested in the city and my work has always been about the human situation here—be that of the migrant or the dream/reality quality which pervades life here."
Her work, A Terrible Beauty, reflects the changing landscape, which is all about the creation of an imagined paradise which can range from fancy malls, luxury apartments selling a space in the clouds, or even imagined tulip gardens. She explains, "Since tulips are rarely seen in Mumbai or in most of India, for that matter, it smacks of the exotic, the unreachable and therefore, the desirable." The Silent Wheel captures a time when the mills were closing down and have been used as a metaphor for the wheel of life and time.